Pratt's Store In Bridport Your Hometown Connection On Rt 22a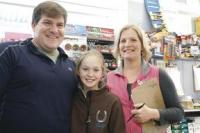 photo by Mike Cameron

Pratt's Story is All About Family pictured above Corey Pratt, Blair Stone and Stacey Stone ready to greet customers at Pratt's Store in Bridport.
Tuesday March 26, 2013
By Mike Cameron
A brand new grill and hot entrée menu brings a whole new prospective in quality take out to an Addison County institution.

There is a full-service Vermont village store right on Route 22a in Bridport that goes the extra mile to find out what the needs of customers are. At Pratt's Store they continue to find creative and cost effective ways to address those needs.

It has been this way for decades and done with continued success. They keep it simple at Pratt's. Friends are made, products are fresh and turnover of inventory is constant and smooth. Now something new has been added yet again to this landmark store.

Under the direction of Debbie Cram, Pratt's always popular deli has added a brand new, state of the art, grill and other hot meal preparation infrastructure. This is creating a buzz on both sides of Lake Champlain from Burlington to Ballston Spa and beyond.

Imagine the best fresh ground perfectly grilled burger you ever tasted? Pratt's has it. How about a home made pie, prepared from scratch and baked to perfection by someone who brings a true level of pride to her work. Heck on Friday the smells bring you in and the pies bring you back. And that's just a sample of things to come.

According to store owner Darwin Pratt the long range plan is to continue to evolve and improve...but what a start! The new grill has taken off like a rocket and customers love the variety.
The Deli Menu has never looked better and now that the store has a new webpage and facebook connection. The sky is the limit.

Pratt's is all about making friends one customer at a time and they have continually up-graded their ability to do so year after year. Sunday papers and something fresh and tasty from Pratt's is part of growing up in Bridport. Ask someone who did. Pratt's has always been about family and being good neighbors. What they have to offer customers is all about quality, freshness and convenience along the Route 22a corridor.

Now that Easter is just around the corner Debbie has a full menu of fresh baked pies, breads and rolls to compliment any holiday meal and remember Pratt's has always been the go-to store in Addison County for fresh cut meats, poultry and produce. Ask for in-store flier specials and check the Valley Voice for new fliers every other week.

Pratt's is also all about the service from longtime employees like Elaine Desforges, Aleena La Fleur, Kim Bean, Kim Gingras, Carol Laframboise and others who enjoy the personal contact that Pratt's has to offer and how they can make your shopping experience better. Darwin, Sue, Corey and Stacey are always coming up with new ideas to make their store a better place to shop.

Stop in soon for a fuel fill-up, an item you may need on the spot and some good old fashioned home town hospitality....because at Pratt's Store they offer so much more. They have literally thousands of items available to their customers including new hot-off-the-grill specials every day, seven days a week.


---