Main Sections
Front Page
Sports
Valley Vitals
It's in the Stars
Starwise
Archives
Links
About The Voice
Contact Us
New Aviation Program Opens The Skies And Opportunities To Vermonters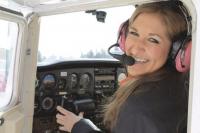 photo by Cookie Steponaitis

Testing her own limits and exploring new avenues, MUHS senior Erin Connor has earned her wings as a single engine land private pilot as a student in the VAST Program through Vermont Technical College and the Flight Academy.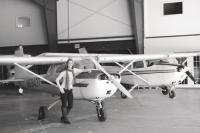 photo by Cookie Steponaitis

While learning to fly the Cessna 152, Erin was one of 18 students in the fledgling year of the VT Tech and Flight Academy Aviation Bachelors of Science Program. Her typical day includes flight training, ground instruction, flying time, meteorology and a full course load at the VTC Williston Campus. Erin is the youngest member of the program and the only high school senior. She is dually enrolled in high school and college.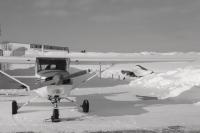 photo by Cookie Steponaitis

Opening up new avenues and career possibilities for Vermont students, the Flight Academy and VTC now offer the only FAA approved Bachelors degree in Aviation in the state, which affords the graduate nine certifications and endless career opportunities.
Tuesday January 29, 2013
By Cookie Steponaitis
Erin Connor sets out for a day of college and like most commuting students checks to see that she has all of her materials before leaving home. Books? Check. Backpack? Check. Headset? Check. Flight materials? Check. A day at school for Erin is also part of a day in the air because she is one of eighteen students involved in the first aviation classes at Vermont Technical College in Williston, Vermont. The Vermont Flight Academy, in its premier year contracts with Vermont Technical College and offers grass airport training, mountain flying, seaplane training and flying, bush and remote airport flying and of course variable 'weather' flying. Operating on site from the Burlington International Airport the instructors of the Vermont Flight Academy also train students in air traffic control at the busy airport with airline, military, business and charter traffic as well as the flight training for all the students. No longer do Vermonters have to send their students out of state to distant and overly expensive colleges and universities. The sky is literally the limit because aviation is now a viable option for Vermonters in their own home state.

At the helm of the new flight academy is President Douglas W. Smith who serves as the Assistant Chief Flight Instructor for the Academy and is also a Federal Aviation Aministration Designated Pilot Instructor with over fifty years of experience in aviation. "I started flying at age fifteen working at a flight school in Pearland, TX and every day I worked moving airplanes, fueling them, washing them, putting oil in, and assisting maintenance, sweeping floors, you name it. I was paid not in money, but with an hour of flight time," shared Doug Smith. "So by the end of high school I had earned both a Private Pilot Certificate and also a Commercial Pilot Certificate. I majored in something else in college but afterwards headed right back to my real passion of aviation, and was Chief Flight Instructor at Auburn University's School of Aviation when Delta Air Lines hired me for a thirty year career. Afterwards I worked briefly for Eos Airlines in NY and for Air India as a B-777 Captain for two and a half years before starting the Vermont Flight Academy with partners and then approached Vermont Tech College to partner with a four-year B.S. degree program in Professional Pilot Technology."

While the doors of the program opened in August 2012, Smith and others have been hard at work laying the ground work for this new venture and obtaining all the Federal Aviation Association certifications for some time. Smith and several other pilots approached Vermont Tech College Dean Brent Sargent and began developing the program over a two year period. The group obtained approval by New England Association of Schools and Colleges (NEASC) as Vermont's first Aviation degree program as well as an FAA( Federal Aviation Association) Approved (Part 141) flight school in 2010, which is required for college programs since it offers a quality syllabus training for the various certificates and ratings that are offered. Not only passionate about flight instruction, Smith's role as one of Vermont's FAA Designated Pilot Examiners added to the offerings possible through the Vermont Tech Williston Campus which is located only 1.7 miles from the flight school.

The new program is one of a kind in the state and the world because of the combination of certifications that are available during the four year B.S. degree in Aviation Program Director Smith explained, "Vermont Tech graduates will have a four year B.S. degree in Aviation with a focus on Professional Pilot Technology. The training will include nine pilot certificates and ratings which are virtually all students can obtain until they have more flight time and are older. The flight training includes Private, Instrument, Commercial, Certified Flight Instructor (Airplane, Instrument, & Multi-engine), Seaplanes, and multi-engine land and multi-engine sea. No other college program in the world offers the extra ratings such as Seaplane. Few offer any more than four certifications."

In addition to being the youngest member of the entry Aviation degree class of eighteen, Erin Connor represents another unique opportunity open to Vermont high school seniors through Vermont Technical College called VAST. The Vermont Academy of Science and Technology offers motivated high school seniors the chance to complete the senior year of high school and the freshman year of college simultaneously plus receive two semesters of free college tuition for Vermonters and a stimulating environment in which to grow and mature. Students are chosen from applicants who apply to the program and must have a willingness to work hard and participate in a demanding curriculum. Erin, a senior at Middlebury Union High School applied and was granted admission to the program, becoming the only high school senior in the opening class of the Aviation Program. Erin will graduate from high school in June 2013 and have completed her first year of college as well in the Aviation program at Vermont Tech.
Not only is Doug Smith excited for his current students but those who now can follow in their footsteps as well. "Students should start EARLY to explore options in aviation," advised Mr. Smith. "We routinely see sophomores and juniors in high school along with the seniors. Vermont Tech Admissions counselors and I interview every applicant to explain the application completion process as well as the costs and specialties about the Aviation Technology program. Afterwards I usually bring interested applicants and their parents to the flight school to meet the staff and instructors, to see the airplanes and simulators and sit in them and talk to other students and often take an orientation flight in the type of trainers used. It has worked well so far and is very personal to insure all the information is given."

Not only is Erin now at seventeen a certified private pilot but she could not stress enough the personal attention and strength she gains from the instruction she receives at the Flight Academy. "I have never met a group of people more dedicated to helping you succeed than these people," remarked Erin Connor. "A year ago I was sitting pondering what classes to take my senior year and having already secured my credits for graduation I wanted to challenge myself. Little did I know how this would all turn out! I have found a career, a passion for flight and have blown away every limit I ever believed was placed on what I am capable of. I not only encourage people to come and see the aviation program for themselves but to really research the VAST program as a viable opportunity for your senior year. It has opened so many doors for me that I can't even begin to express."

Smith, in addition to opening new pathways also shared that the aviation field is not only here to stay but is growing. "There are growing studies and reports that show a pilot shortage of proportions never seen before, some estimating between 350,000 and 900,000 needed pilots in the next 20-25 years," explained Doug Smith. "The U.S. military used to supply 95% of the airline pilots in our country. Changes in pilot quantities needed and the beginning of drones has reduced the pool to less than 25% of the needed supply of pilots from the military. Thus civilian training which is for the most part ONLY accomplished in North America is likely to be very much a growing business for all aviation schools in the future. There is also already an indication that pilots who graduate with a degree in aviation will be given priority over applicants who may have similar flight credentials but have a non-aviation degree. Although the prospects look encouraging I always tell young people that you will not become an international Boeing 777 Captain overnight , but must spend years flying smaller airplanes, then middle-sized ones, and finally earning the confidence of employers to put them into very large aircraft. It is absolutely no different than any other field, whether it's business, law, medicine, or you name it."

Smith was quick to showcase his youngest student and her efforts as just what the program is looking for in Vermont teens. "Having taught many young teenagers how to fly over my working life I had no worries at all about Erin," reflected Smith. "Younger students learn the science and art of aviation just as well if not better, than older ones. Erin's record as a student is impressive and her organization, motivation, and enthusiasm for the aviation program is infectious. She enjoys working with all the other aviation students who come to the program from all the New England states and Vermont both." While both students and teacher cannot wait for the next class training and flight, the meaning of this program far exceeds the moment and the eighteen students lucky enough to be in the opening class. It signals a programmatic shift in career choices and quality programs available to Vermonters in their own home state. With the partnership between the Vermont Flight Academy and Vermont Technical College the sky is now open and available to Vermonters seeking a career in aviation while wanting to stay in their home state and receive the personal attention to their education that has been the hallmark of the Vermont Technical College programs for years. So, the next time you look up as a plane passes by look for a pink headset and you might just get a glimpse of Vermont's newest certified Private Pilot who is hard at work on a new career and following a dream right here in her own home state.
---
Advertisements
Search our Archives