Future Farmers of America Can Be Proud Of Their Legacy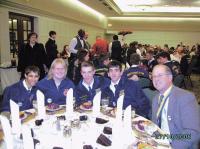 photo provided

National FFA Convention (L to R): Atreau Jewell, Kayla Bradley, and James Sweeney Forestry Team from Vermont finishing Bronze, Tyler Steady Mt. Abraham delegate with Team Coach Bill Scott at the Awards Banquet in Indianapolis at the National FFA Convention and Career Development Events.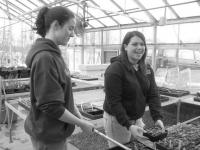 photo provided

Plant and Animal Science class member Chelsea Drown and Tara Barber are working with other Middlebury FFA members to run the school greenhouse this spring.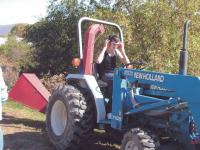 photo provided

FFA Member Jason Krans worked with fellow classmates in the Career Center Landscape class to renovate the landscape garden at Helen Porter Rehabilitaion Building.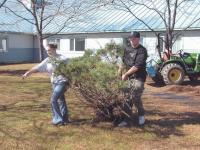 photo provided

FFA members Amanda Corey and Adam Breen help remove unwanted shrubs in the landscape garden at Helen Porter Rehabilitaion Building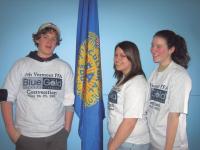 photo provided

The Plant and Animal Science class elected new FFA officers for the Spring Term. Newly elected are Teasurer and Sentinel Troy Audet, Preseident and Reporter Tara Barber and Vice President and secretary Chelsea Drown
Tuesday February 20, 2007
By Mike Cameron
The news for Vermont Dairy Farmers was not good in 2006 as fluid milk prices continued to lag being the dairyman's ability to control the ever increasing costs of operation.
As was the case in 2005 and back, some Vermont farmers had to cease operations and sell their farms.

Many in Vermont believe that every time a farm has to be sold because the operator can not keep pace with ever competitive marketing and economic conditions, Vermont looses a part of its identity.

Supporting organizations like Future Farmers of American and its chapters in our state and county is important.

F.F.A. can and does provide the guidance for young aspiring farmers and growers to be the agribusiness leaders of tomorrow.

In 2005 Governor Jim Douglas honored education and skill development organizations at a State House ceremony. The governor declared Workforce Training, Technical Education and Skill Development Month.

The Future Farmers of America (FFA) were an integral part of this broad based initiative. According to the proclamation, "FFA and Agricultural Education provide a strong foundation for the youth of America and the future of the food, fiber and natural resources systems. The FFA promotes premier leadership, personal growth and career success among its members."

The governor has continually expressed his vision that "an educated and highly skilled workforce is a key to attracting and retaining high paying jobs in Vermont. "For Vermont to remain on the path to proosperity we must continue to invest in our people-in their skills and in their spirit-and I'm pleased to honor these organizations for their efforts in this important area." Douglas' fiscal year 2006 budget reccomendation included another increase in workforce training funds.

FFA continues to be an important conduit between the farmers of the past and the farmers of the future. There is much to learn from those that preceeded them and plenty to accomplish as the future unfolds.
F.F.A.'s Deep Roots

FFA was granted a federal charter in 1950 by Congressional Decree but the history dosen't begin here. The events of 1950 are a signpost but the National FFA organization was organized in 1928 in Kansas City, Mo.

Since those early days the organization has helped to broaden the field of agriculture. Today agribusiness world has grown to a remarkable 300 career paths including agriscience, biotechnology and turf grass management operating on local, state and national levels.

It is interesting to note that two of the top three executives in FFA are employed by the U.S. Department of Education.

The FFA Motto is a reflection of both its history and its continuing dedication to create an ever improving agricultural environment in the future.
Learning to Do, Doing to Learn, Earning to Live, Living to Serve. FFA is making things happen in Vermont agriculture.
---