Main Sections
Front Page
Sports
Valley Vitals
It's in the Stars
Starwise
Archives
Links
About The Voice
Contact Us
Meet Graziella Weber Grassi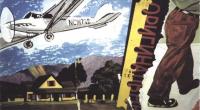 photo provided

"Yes" by Graziella Weber-Grassi
Tuesday February 13, 2007
By Bridget Dorman
Many of the basements in our homes in Vermont are places no one would want to spend much time. They are typically dark, and damp, perhaps with one small window to let in any natural light. They store our stuff, house the furnace, and, in the movies, they are where bodies are buried.
But at our neighbor, Graziella Weber-Grassi's home in Whiting, the basement is a place where ideas are born and creativity abounds. When you walk down her basement stairs you are met by a vibrant green wall, which serves as a backdrop to one of her brilliantly colorful paintings. Track lights from above illuminate the paintings that are displayed around the room, and shelving along the walls house all of the tools and inspirations that help Graziella create her art.

Born in Switzerland, Graziella has the ability to not only speak a unique language through her art but also knows six other languages. Graziella moved from Switzerland at the age of twenty-one to Montreal and then back again to Swiss soil. She and her family then moved to Columbia for a number of years, after which they settled in Sea Cliff, Long Island. Only a year and a half ago, they found Whiting where she and her husband, Peter, believe they have found a tranquil home base to welcome them home from their many travels.

Graziella, a dynamic sixty, plans, this month, to travel for two months through Southern India. She admits she has always been fascinated by religion and hopes to experience and observe yet another corner of the world, its culture and credo. While her life and experience in Columbia has not recognizably surfaced in her art, she anticipates that her experience in India may influence her art, and introduce a different flavor and direction in her creativity.

Most of her art could be characterized as Swiss and American depicting many images of the 1940s and 50s. Graziella admits, "perhaps I never grew up," and that her interest in toys of that era perhaps is a case of the "Peter Pan Syndrome." Many of her pieces are large stretched canvas measuring up to roughly twelve by ten feet tall, these pieces have a dominant presence and Graziella must complete them by climbing a ladder to reach the upper-most corners. She is presently experimenting with one of her newer projects on a much smaller scale. She shared the beginning stages of an English alphabet, each letter painted on its own small square of canvas. One can just make out the words of an English dictionary popping up from behind layers of vibrant paint.

A strong "R" painted above its accompanying image, of a Rosary, rather than a rocket, robot, or roller-blade sends a unique and individual message. In her own words, Graziella explains, "In a playful way I juxtapose memories from my Swiss Childhood with quintessetnail Americana images evocative of the pop culture of the 1940s. My collage-like canvases set the stage for people to explore and resolve their own inner conflicts while searching for the lost innocence of childhood."

Graziella has been painting for fifteen years but has been imagining for a lifetime. She often paints pieces with an accompanying double image. The first piece portraying a young girl, high in the corner, socks slipping down and scrunched around the ankles, while the partner painting may have a young boy, britches patched, shoelaces untied, both with other colorful images and messages accompanying them on the canvas. Graziella often pairs man and woman, boy and girl in her art, and while the pieces are sometimes sold separately, I anticipate that somewhere down the line, the owner of the art will yearn to find the partner piece to match his or her painting. Like the antique collector who searches high and low to find the Raggedy Anne to complete his Andy, Graziella's paintings speak to each other, and while they have individual brilliance and substance, together the double images tell a story.

Graziella's artistic flare is richly expressed throughout her life and home. She once owned five looms on which she would expend some of her excess creative energy. She could weave her own paper string fiber art to be used as canvases for her paintings, and all about her lovely home are the many woven rugs that she has created from old sheets and fabrics that have only become more charming with ware. Graziella's appreciation for, and her ability to embrace the simple, and natural elements of life reveal either a degree of what is already Vermont's influence in her character or more likely a universality of what many people across the globe find inspirational and appealing.

Graziella is passionate about her art but she more often boasts of her family – her husband, memories of her mom, who she deemed the "ultimate mother," and of her one son, Kiran, whose name means "sunbeam" in Indian (and of course the loved Bernese Mountain dog, Maedi). Kiran, who is an illustrator and graphic designer, will soon be assisting Graziella with designing a web page so her art may be displayed for the world to view and admire. Perhaps now that I have put this promise in written word, Kiran will make certain to break from his busy schedule and bring his mother's Internet ambition to fruition. Until then, we will have to wait and encourage our neighbor to showcase her talent on a more local level when her yearning to travel subsides.
---
Advertisements
Search our Archives