Otter Creek Basin Student History Club Members Keep History Alive All Year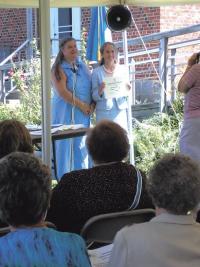 photo provided

State Champion Brooke Connor accepts her DAR win
Monday January 1, 2007
As the calendar turns yet another page and we again being discussing New Year's resolutions, the members of the OCBSHC have a busy year to look back on and firmly resolve to keep involved with history all year long.
In June, Erin Connor and Jake Steponaitis traveled to Orlando, Florida to compete in the national level of the God, Flag & Country Speech Competition sponsored by the Fraternal Order of the Eagles. Erin walked away with a national championship in the age 10-11 division and Jake finished second in the 12-13 year age division. Each of the pair spoke not only to the judges but also to a crowd of over 6,000 Eagles club members attending the national convention. Pictured below with their trophies and awards, the two are already working on the speech for this year's competition. They encourage any interested teen from ages 10-15 to contact their local Eagles Club or to contact the history club at VUHS at (802) 877-2938 ext. 239.
Added to the summer activities were presentations and honors at the DAR Strong Mansion in Addison. Several club members entered the DAR writing contests on Christopher Columbus and Ben Franklin. Honored with state wins were Erin Connor and Erin Provost. Also honored with top finishes were Jesse Sturtevant and Brooke Connor. Every year many club members enter several different writing contests at a local, state and national level. They encourage interested students to contact them for ideas and contact information.

One last component of the club's summer activities included in-depth research and internships. Pictured is Brooke Connor who worked at Fort Ticonderoga and helped to attract and guide young visitors into the daily life of teens who lived at the fort. She learned how to cook, make bread and perform daily tasks of the period. When asked about her time at the fort Brooke remarked, " It was incredible. To learn first hand about life then instead of reading it in a book was beyond fun. I look forward to next year.
As school returned in full swing, the club members again took part in a round of speech and writing contests. OCBSHC member Olivia Teer won top honors in the Rotary Speech Contest and Erin Conway took top honors at the local level of the American Legion Oratorical Contest. Also exciting was the state championships for John Viscido and Erin Connors in the VFW programs Voices of Democracy and Patriot's Pen. Since September 57 students have competed in writing or speech competitions and the group plans a spring with competitions in the Vermont History Day and releasing a written collection of interviews with World War Two veterans.

While it may seem that competition is the main focus of the group it is not. Other activities and current projects include a set of five videos for elementary schools to use on the history of the Otter Creek and buildings on Main Street in Vergennes. Groups are now working on a history scavenger hunt for use by summer tourists and locals alike. With the help and guidance of local historian Robert F. Mitchell, the group has experienced many unique and wonderful outings this year including into a cave and a history ride down Otter Creek. The club meets regularly and can be contacted by anyone through advisor Cookie Step at VUHS at (802) 877-2938 ext. 239. So as you move forward to the New Year try to resolve to make some room for the past!
---