The Image Makers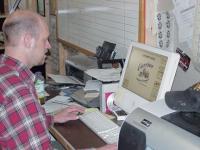 photo by Mike Cameron

Earle Provin at his computer at the GRAPH-X office on Exchange St. in Middlebury.
Tuesday December 19, 2006
By Mike Cameron
In today's competitive business world and in everyday life, standing out in a crowd doesn't seem to be a trend that is going to go away anytime soon.
Compare signs and logos today to what was evident even ten years ago and it begins to sink in just how far we have come, say nothing about how far we might be going to identify who we are, what we do, and why we do it.

Today logo's and creative font lettering, assisted by digital imaging and driven by powerful computer graphics software is literally changing the way we view the world. From Middlebury Vermont to Beijing China, the image makers are hard at work defining the way we see ourselves and others.

It was interesting to observe in the most recently completed election cycle for example that everyone who plugged in a lawn sign was able to display their candidate in an attractive package of graphics, color, shapes, logos and lettering.

There were moose, fish, and fonts a plenty as candidates attempted to give their personal platform top-of- the- mind awareness with voters.

Today's good idea can be an image on a shirt, hat, vehicle or other surface in a matter of hours and in some instances much less.

In Middlebury two young entrepreneurs work with this technology every day,. They are skilled in the art of identification and positioning.

People, places and things become more noticeable and important with their creative signs, banners, clothing imprinting and other services, all designed to create a certain enthusiasm and excitement.

Earle Provin is a talented graphic artist. Ross Edmunds is a successful retailing and marketing manager.

Recently both young men formed a company to pool their considerable talents together. That company is located on Exchange Street in Middlebury. It's called GRAPH-X.

Provin and Edmunds began their business here in the late summer of 2006 and their customer list has been growing every week.

They can screen print shirts and hats, create and print business cards, create and print signs including a large component for vehicle lettering, and they can help with creating a prototype sign concept right from scratch.

The majority of their work is done in house but they can outsource special jobs with a variety of contacts and contractors that they have cultivated over the years,

"We can take advantage of some of the latest software programs available right now and because we are a smaller shop we can and will take more personal time to help customers with the original ideas, one on one," Provin explains.

Edmunds is similarly dedicated to working one on one with the customer. "We are building on repeat business like any service oriented retail establishment and that happens when people are happy with the results,' he said.

Earl is "Mister Inside" working mostly with design and application and Ross "Mister Outside" working with customers both in-house and on the road. "Today you can imprint on just about any surface and in the short period of time we have been here we have, including slate," Provin explains T-shirts are always popular and we can imprint on them in some very unique ways, including a look like aluminum foil," Provin explains.

The two owners are looking to the future for new developments in technology and to expanding their growing list of satisfied customers.

GRAPH-X Inc. Shirts and Signs is located at 656 Exchange Street in Middlebury on the web at graphxvt@verizon.net or at 1-802-388-8494. Got an idea? Earl and Ross can make it a reality.
---