VARS Checks Child Car Seats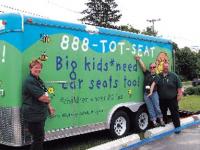 photo provided
Tuesday December 19, 2006
Vergennes Area Rescue Squad is proud to announce participation in the statewide Car Seat Fitting Station Program. The trained squad members join Fitting Stations in 21 locations across the state that teach parents and caregivers to install and adjust their car seats properly and to determine when an older child is ready to graduate from a booster seat to an adult safety belt.

Motor vehicle crashes are the leading killer of children ages 3-14. "Child passenger safety is not just about babies and toddlers. It's a commitment that lasts a lifetime," says Chuck Welch, a certified car seat technician. 4 out of 5 seats are used incorrectly according to Welch who is also an EMT-I with the rescue squad. "Having the seats checked by a certified car seat technician can make a difference in a child's life," says Welch, "It is just that important."

Vermont Fitting Stations are funded by the Vermont Governor's Highway Safety Program in partnership with Safe Kids Vermont and Land Air Express of New England. Each station is equipped with scales to weigh and measure children as well as materials to help with car seat installations. Car seats and booster seats are available at a discounted price if there is a need for a replacement seat.

The Fitting Stations will be giving special attention to older children. Infants and toddlers ride in safety restraints more than 90 percent of the time, but children ages 4-8 ride in safety seats only 21 percent of the time. "That's an alarming difference, and it shows that many parents and caregivers are unaware of the importance of booster seats," says Welch. "You'll be able to see for yourself whether your child is big enough to be safe in an adult safety belt," says Beth Bannister, a 3 year veteran of the squad and also a certified car seat technician. "Bring your child to the Fitting Station to be weighed and measured and take the Safety Belt Fit Test so you can actually see whether the adult safety belt protects your child better with a booster seat."

"Comfort is a factor in safety," says Welch. Kids who can't sit comfortably on an adult seat are likely to slouch or squirm and move out of a safe position. That's when adult safety belts may fail to offer full protection to a small child." A booster seat positions the adult safety belt correctly and also helps a child see out the window. Booster seats should be used until a child reaches 4'9" (57") tall and 80 to 100 pounds - a height and weight most kids reach between ages 8-12.
Vergennes Rescue is located at 106 Panton Road in Vergennes. The Vermont Fitting Station is open on the 1st Thursday of each month from 3:00 - 6:00 p.m. and the 3rd Saturday of every month from 9:00 a.m. - 1:00 p.m. Call 877-3683 to schedule an appointment.

The Governor's Highway Safety Program, Safe Kids Vermont and Land Air Express of New England are proud to sponsor these important stations and help to prevent unnecessary injuries or death to children in motor vehicle crashes. For more information about Vermont Fitting Stations please call 1-888-TOT-SEAT.
---