New Nextel Store Opens in Middlebury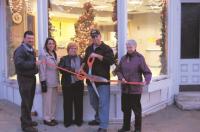 photo provided
Tuesday December 5, 2006
An official ribbon cutting ceremony was held on Wednesday November 22nd. With the help of Ted Shambo, Marguerite Senecal and Beth Crosby from the Addison County Chamber of Commerce, as well as Addison County Chamber of Commerce Board Member Darcy Tarte, Bill and Judy officially opened their new Nextel store.
The brand new Nextel store in Middlebury is located at 32 Merchant's Row and is open Monday thru Friday from 9am-7pm and Saturday from 9am-5pm.

Bill and Judy have been operating a home-based business in New Haven for the past three years and carried Nextel wireless communications as an additional product. Judy said that "I knew the time would come when we would want to deliver the wireless product in a different manner, a step above what we currently do, allowing us to be a fully operational wireless product store. Sprint together with Nextel will increase the types of service we can offer, both IDEN and CDMA".

As a special Holiday opening, Judy and Bill would like to extend an invitation to the community to "Send your holiday greetings" via the Nextel Nextmail service. This is being held in conjunction with the "Thank You Troops" campaign offered through Sprint Nextel.

During the Holidays, anyone wanting to send a special message to their loved ones is welcome to come in and Bill and Judy will show you how. Judy says that "This is a great way to send a confidential message to a loved one that is stationed somewhere overseas. Nextmail is a service that gives individuals an opportunity to send a 30 second verbal message to an email address.

The process is initiated by sending an email notice to [email protected] along with the email address that the message will be sent to. "After we enter the email in our system that person can come in and record the message they want to send to their loved one," says Judy. The receiver of the message is simply getting a message in their email "inbox" as an attachment. The receiver can then play the message and hear the message as if they were in the same room. "This is a simple, but meaningful way of providing a sense of closeness to those loved ones abroad," said Judy.
---