Main Sections
Front Page
Sports
Valley Vitals
It's in the Stars
Starwise
Archives
Links
About The Voice
Contact Us
Grandma Phyllis And The New Art Gallery At Kennedy Brothers



photo provided

Grandma Phyllis folk artist in residence at Kennedy Brothers in Vergennes.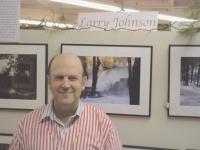 photo provided

Rod Case was instrumental in putting the new art exhibit at Kennedy Brothers.
Tuesday November 28, 2006
By Bridget Dorman
New to Addison County, I recently adopted a new tradition – which should pair well with my husband's new hobby. On the first day of hunting season the Kennedy Brothers Marketplace in Vergennes opens its doors at 6 am for a special sale for the "hunter's widows." In the words of Win Grant, Kennedy Bros. owner, "as the husbands go out to get the buck, the wives come out and spend the buck." It is an event that rewards shoppers with a 10% discount if you come shopping in your pajamas, and also gives the local community an opportunity to meet some of the employees, family and contributors at Kennedy Brothers – who are also decked out in their signature red and white striped PJ's. This annual event was for me, a successful hunt. On the Kennedy Brothers' second floor, a space which formerly housed antiques, shoppers can find a rich venue of art from all over the state, and in the far left corner, you can find artist Grandma Phyllis, a smile, her story, and her art.
Grandma Phyllis, at age seventy-one, is a grandmother to seven. And, in addition to singing opera, playing the organ, and hating to clean, she is, as she explained, "a keeper in the kitchen," a speaker of Spanish, French and Creole, a pet lover and an artist. Many of you may have seen Grandma Phyllis and her art at the Vermont Festival of the Arts in Waitsfield, where she has been a resident artist for the past three years and she has also been a fixture at the Addison County Field Days, Home and Garden Show, for eight years. Grandma's paintings decorate anything from canvas to wood, to metal, slate, or the back of children's hands. Her work most familiarly depicts farm scenes from across New England.

On the day of our meeting, Grandma kindly painted my hand, as she has done for hundreds of children who have passed through her gallery at Kennedy Brothers, or attended one of her classes at local schools. When asked why she doesn't instead paint children's faces, she candidly responded, "because I do it for the children, I want them to be able to see it!" So, for the afternoon my hand bore a Vermont Farm scene, complete with rolling hills a red barn, a white picket fence, and, of course some familiar black and white cows. As the day wore on, I later had to remove the art from my hand as the paint on the red barn began to chip off, giving the scene an antique quality, looking even more like the aging sides of one of Vermont's many cherished barns.

Grandma Phyllis, born of two families the Dumas' and the Brusos – both of whom claim to bear the hereditary gift of creativity from which Grandma's talent stemmed - was named Ernestine Phyllis, each name an acknowledgement of ancestors from each of her two lines of heritage. On some of her prints you will see a silent tribute to her first name hovering just above the farmhouse chimneys - the smoke plume rising up in a curvaceous "E." But anyone who knows Grandma knows that there was one particular family member who became her primary inspiration ten years ago - her nineteen-year-old dog Bocephus. Bo was loved and missed when he passed away ten years ago and in an effort to preserve his memory, Grandma experimented for the first time with charcoal and created a lifelike image of Bo for her husband, "Gramps." She has not stopped creating since.

While Grandma Phyllis spent twenty-five years of her life happily working for Delta Airlines, she told me she had once aspired to be a lawyer. She had a desire, she recalled, to serve as a voice for those who cannot speak for themselves, for the young, and for the old. While Grandma Phyllis never did pace the floors of the courtroom she has certainly found her niche as a voice for Vermont farmers. One of her favorite paintings in her collection is a painting of a farm, with the words "Bread and Butter" scrolled along the bottom of the Green Mountain landscape. This painting signifies her belief that the family operated farms of Vermont, and New England are at the heart of both the state's heritage and her own. And while the old ritual saying denotes a sense of togetherness, its message is simple, bread and butter, "go together," as does Vermont and its farming, farmers and farms.

You can visit Grandma in her gallery Wednesday, Thursday and Friday mornings, and her art can be viewed anytime during Kennedy Brothers business hours, open every day 9:30am - 5:30pm, except Thanksgiving and Christmas.
---
Advertisements
Search our Archives