Disaster Drill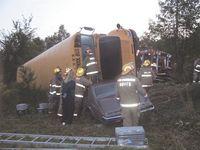 photo by Alexandra Larrow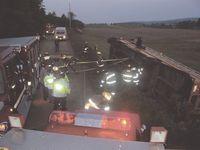 photo by Alexandra Larrow
Tuesday September 19, 2006
By Alexandra Larrow
On Saturday, September 9th, the New Haven Fire Department held a drill for various fire departments and rescue squads in the area. For this particular drill, New Haven flipped an old Vergennes High School bus over an embankment into a ditch. They then placed a car under the front of the bus, and wrecked a car farther up the road. Several students from Vergennes and Mount Abraham volunteered to act as victims in the crash, as did multiple adults from the area.
I was fortunate enough to be one of those students. Each of us was given a different injury, and our job was to portray that injury while the firemen and paramedics worked on the crash. I was the most critical patient in the bus, aside from the dummy acting as the dead bus driver. I was supposed to be unconscious. I was very impressed with the men and women working on the crash.
As soon as they arrived, they began assessing the situation and determining the best way to get us all out of the bus. A paramedic went down through the bus and assessed our individual conditions. Then a second paramedic came through and assigned each of us a color. Green was the least injured, yellow was moderately injured, and red signified a critical patient.
These colors represented the order in which we should be extricated from the bus and which tarp we would be put on. In a clearing near the bus, there were three tarps set up. One green, one yellow and one red. Once taken from the bus, you were taken to the appropriate tarp and assessed even further. Because I was the most critical patient, I was immediately taken to the ambulance.
In an actual crash, I would have been taken directly to the hospital. In all, I was incredibly impressed with the responders at the scene. Everything was taken very seriously and done very well. After the drill, they had a critique where they looked at what went well and what they could improve on. They even looked at different situations, especially those including parents. If a school bus actually did get into an accident, there would be many parents at the scene.
The current VUHS Co-Principal Peter Reynolds was also in attendance at this drill. The firemen and paramedics discussed how he should be utilized an d what role he would play in this situation. This was not only a learning experience for them, but one for me as well. I never knew how much work it was to try and save people in such a situation. My hat goes off to all fire and rescue personnel for their difficult and vital work.
---