Side Judge Wayne Joseph Heath Dies Unexpectedly
Retired Vermont State Trooper devoted his life to law enforcement...will be respectfully missed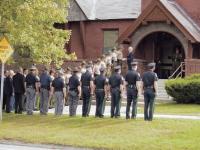 photo by Mike Cameron

Members of The Vermont State Police, Addison County Sheriff's Department and Middlebury Police Department snap to attention outside the Middlebury United Methodist Church on Thursday morning 9-7-06 as they honor the late Wayne Heath. Heath served the state as a career state trooper and most recently as a Addison County Side Judge. He was preparing to run for a 4th term on the bench.
Tuesday September 12, 2006
By Mike Cameron
An untimely death always comes as a shock. Being told that Addison County Side Judge Wayne Heath had lost his life unexpectedly on Sunday, September 3rd was exactly that. What a shock even for a person who comes to expect that if we meet many people every day in our particular line of work some might leave us abruptly. All are very special. Wayne Heath was just that, very special!
Judge Heath was our guest at The Valley Voice on Wednesday afternoon just four days before his death. He was ready to announce publicly his intention to run again for Addison County Side Judge a position that he had held for 3, 4-year terms. "I really feel that I can make a difference. The process has been a learning experience and it has allowed me to witness both the letter of the law and the spirit of the law first hand," he said during the early part of our interview.
We also discussed Wayne's years as a Vermont State Policeman and his respect and admiration for former Side Judge James Lilly also a former State Trooper who retired from the bench four years ago.
Bridport businessman Frank Broughton succeeded Lilly and is currently serving his first term on the bench. "I have enjoyed working with Frank and we both have learned a great deal these past 4-years," Wayne remembered during our interview.
Wayne Heath had one particular area of expertise that set him apart from other side judges in the Vermont Court System and that was his ability as a judge in Traffic Court.
Not all of Vermont's citizen judges are qualified to preside in Traffic Court. It is a job that Wayne was particularly suited for and as he mentioned in our interview, "I was on the other side for years as a cop and when I became a judge I was forced to look at the individual cases from an entirely different perspective," he explained. He stressed that he wanted to be fair and compassionate. Not just fair for fairness sake.
Wayne had strong feelings about the "spirit of the law," and how sometimes a defendant can learn from a ruling that was less harsh than they might expect. Likewise he was fully aware of the danger to others that a repeat offender posed and was ready to exercise his power accordingly to protect the public.
Only a relatively small number of Vermont Side Judges are qualified to preside in Traffic Courts throughout the state and Wayne was hearing cases in both Addison and Rutland counties just prior to his death.
Heath also had an extensive background and years of experience in Family Court matters including child abuse, child molestation cases and battered women cases and worked closely with all of the social services organizations to find relief and protection for the victims of such crimes. "I've learned alot in the past 12-years," he told The Voice and I want to put that knowledge to work for a good cause for the next four years,' he told us during his re-election interview."
---
---
Related Stories:

· Wayne Heath Remembered