Dog Team Fire And Fatality Brings Many Irreplaceable Losses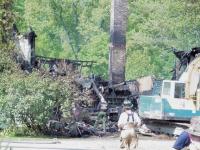 photo provided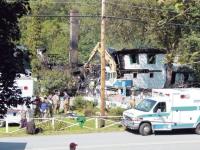 photo provided
Tuesday September 12, 2006
By Ed Barna
Addison County had a disaster of its own on September 1st, when an unstoppable early morning fire destroyed the Dog Team Tavern, with owner Christopher Hesslink inside.
At first there were hopes that the 42-year-old Monkton resident had not stayed in his apartment at the Dog Team, even though his two dogs were found at the scene, safely confined in a truck. Hesslink was known to be an avid angler, sometimes going out of state to find good fishing, and perhaps he had gone on such a trip.
By Friday afternoon, that part of the Brooksville neighborhood began to look as much like a wake as a fire scene. Most of the 10 departments that had helped with the blaze were gone, and replaced by concerned friends, neighbors, and Dog Team employees.
The building was a total loss, said Michael Dykstra, New Haven's Fire Chief, who was in charge of the scene. Even parts that seemed to be standing, like a dining area to the south of the main structure and the kitchen to the north, were charred to ruin by a conflagration so intense they couldn't approach, he said.
The fire was probably abetted by a gas explosion, judging by comments made by the neighbor who reported the fire about 2:30 a.m.. Dykstra said that nine times out of 10, when there were flames and damage like he saw on arriving, a gas explosion was involved.
The remaining firefighters watching for live embers while a grappling fork was used to lift charred timbers from an area behind where the entrance had been. A bulldozer was there, too, but not used.
With the timbers gone, the firefighters started digging with shovels, carefully pouring to the side what they lifted out. Around four o'clock, the digging slowed, and one of the group went to a vehicle and brought over a large plastic bin.
Detective Lt. Tim Oliver of the Vermont State Police later said that a body was recovered about 4:20 p.m., but not in any condition to make a positive identification. But on Monday, the State Police determined it was Hesslink.
The community testified how much had been lost with Hesslink's death on Tuesday, when about 600 people came to a funeral service at St. Mary's in Middlebury. Several people at the scene of the fire talked about what a good person he was, and employees were so emotional they didn't want to speak.
There had been some ugly rumors going around, according to Hesslink's friend John Fuller of Middlebury. A suicide? "He's not that type of person," said Fuller--and besides, he had just been on a fishing trip with him, to Lake Ontario.
They had had a great time, shared jokes, caught a lot of fish--it had been a great break, Fuller said. "I can't say anything bad about Chris. This is a shock."
Perhaps some of those rumors came from the reported fact that he had been in court July 21, at which time he pleaded no contest to a charge of "prohibited acts" and was fined $100 and directed to donate at least $1,000 to an organization that deals with sexual assault. Originally, he had been charged with sexual assault, in regard to an incident with a 16-year-old restaurant employee, and was facing a trial before he accepted the lesser charge. There was no probationary period.
It seemed as though more people at the scene were thinking of the weddings and reunions and birthday dinners they had been to at the landmark restaurnat. And to the surprise of no one who had been there, they mentioned menu favorites that had become traditions, such as the prime rib, the sticky buns and the maple oatmeal pie.
But why was it called "The Dog Team Tavern"?
For a long time, its location had been suitable for some kind of inn or tavern, being near the scenic New Haven River and on Route 7 before a bypass was built. Its modern history as a restaurant dates to 1946, when it was acquired by Eben and Catherine Joy.
Before that, however, the Dog Team had a connection with Labrador and northern Newfoundland, places where dog-drawn sleds in that era were a common means of winter transportation. The "Dog Team Tavern by the River" was operated in the 1930's by Lady Anne Grenfell, wife of the missionary and doctor Sir Wilfred Grenfell, as a way of supporting their work in the northland.
The Brooksville location was between Charlotte, where Sir Wilfred had a place, and Middlebury College, whose president Dr. Paul Moody took an interest in the Grenfell Mission. Jessica Swift ("Aunt Jessica" to many back then) helped the Dog Team get started as a tea house and place to sell northern native crafts. (Catherine Joy got to know the place from her work with the Grenfell Mission, where she came in 1933 as Catherine Vaughn of Garnett, Kansas, and eventually became Director of Sales. Under the Joys, at first ten of the upper rooms were let to Middlebury College students, and Middlebury associate Robert Frost was among the notables who came to the Dog Team.)
Chief among the crafts were woven mats made from old silk stockings that Grenfell brought, then decorated with scenes of dog teams, northern lights, polar bears, and the like. Today these are "very valuable," said Glenn Andres, a professor of art and architecture at the college.
It is unclear how many remarkable craft objects and other artifacts from the Grenfell era disappeared in the fire, but their monetary value may have been the least of the losses. The modern-day Dog Team Tavern was a repository of memories and connections, and now only the memories remain.
---