Main Sections
Front Page
Sports
Valley Vitals
It's in the Stars
Starwise
Archives
Links
About The Voice
Contact Us
Addison County Fair and Field Days '06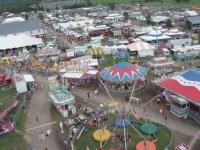 photo by Dale Piper

Aerial view of Addison County Fair and Field Days taken from the ferris wheel. Vermont's premier agricultural showcase is underway in Waltham.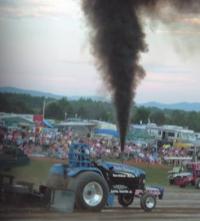 photo by Dale Piper

Tractor Pulling is always a jam packed event at Field Days. Are you ready???
Tuesday August 8, 2006
By Larry Johnson
Summer is the time of year that many of us dream of candy apples, corn dogs and hair-raising midway rides. But, since 1948, the Addison County Fair and Field Days has meant much, much more to the people of the Champlain Valley.

This year Fair and Field Days starts on August 8th and runs through the 12th, come rain or shine. True to its agricultural roots, this annual event has, for the past 58 years, featured those activities that portray the character, history and uniqueness of northern New England.
There are around 3000 fair and field day events across this nation, but according to the national magazine "Family Fun", Addison County's summer celebration is unequalled anywhere, even in Iowa, the heart of the nation's breadbasket: "Although Vermont's largest agricultural fair is much smaller than colossal state celebrations like Iowa's, it stays true to its roots, with few commercial booths and a real emphasis on rural life…." High praise, indeed, coming from a prestigious periodical. The Vermont Chamber of Commerce has also shown its appreciation to Addison County Field Days by nominating it as one of the top ten summer events in Vermont 2 years running.
In a recent conversation with Russell Carpenter, President of the Board of Directors at Field Days, this reporter was privileged to learn a bit of history, philosophy, and lore surrounding this week-long celebration. "We are proud of the fact that we concentrate on shows and competitions," Russell told me. "A clean, safe fairground where children can be free. We focus on people who wish to watch competitive events. We don't invest in big name entertainment but concentrate our efforts on agricultural exhibits. We have the largest number of animals and exhibits of any fair in Vermont. People come to see the cattle and horse shows, tractor pulls, the product and antique exhibits and the children's barnyard. There is something for everyone. "
Field Days was started in 1948 and Russell credits Lucien Paquette with "being the grandfather of this event." In the beginning, it was designed to be an educational program for farm and home- making practices. During the initial years, Field Days went from farm- to- farm and it was much smaller and had far fewer midway activities than it does today. It was primarily an organization whose purpose was to provide up-to-date techniques relevant to farming and home-making, as well as honoring such ancient skills as hand mowing. In fact, it is the only fair in Vermont with a hand mowing competition. For example, there were demonstrations on ditching with dynamite, and there were new product exhibits such as the engine-driven washing machine. Eventually, however, the range of interests was broadened, especially when Field Days found its permanent home in New Haven in 1968.
The midway grew, along with the exhibits and demonstrations, and today anyone looking for an exciting ride or two won't be disappointed. The board of directors is continuously looking for ways to improve upon the nearly perfect. For example, this year, Russell told me, there will be designated smoking areas; and recently the board of directors purchased more land from a neighboring farm; improved lighting and parking; spruced up the tractor pulling area, and completed routine painting and electrical updates.
"Unfortunately," Russell told me, "one promise that I made last year that would be implemented by this summer, isn't going to be in place until next year. Our intention was to convert existing bathroom facilities to flush toilets, but we didn't get the required permits in time for this year but they will definitely be installed before 2007."
So, no matter whether you are a midway enthusiast, horse-pulling aficionado, goat-show connoisseur or, like me, find the pig paddling race hilarious and the pee-wee cattle show exciting, you will find something to tickle your funny bone and activate your taste buds at the Addison County Fair and Field Days. See you there.
---
Advertisements
Search our Archives