U.S. Senate Seat Next Hurdle For Bernie Sanders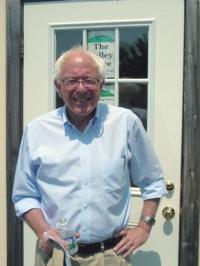 photo by Mike Cameron

Congressman Bernie Sanders brought his U.S. Senate Campaign to Middlebury on Tuesday August 1, '06 including a stop at The Valley Voice for an exclusive 40-minute interview.
Tuesday August 8, 2006
By Mike Cameron
Since 1991 as Vermont's lone meber of the U.S. House of Representatives Bernie Sanders has waged war against the people he considers enemies of the American working class, the so-called middle class, the disadvantaged and the dispossessed.
"Huge profits by giant multinational corporations," and "I will continue to fight for the little guy" is the nucleus of Sanders political persona.
Much has happened politically since his 1991 election to Congress but Sanders remains steadfast to the basic tenants of this philosophy. Now more than ever Sanders remains an independent thinker and has formed alliances on both sides of the isle in the United States Congress and the United States Senate.
For those who have closely followed Sanders political career since the 1970's his current bid to win the seat being vacated by Senator James Jeffords in the fall comes as no surprise. Sanders has honed his political skills by proving pundits wrong time and time again. Gordon Paquette former incumbent Mayor of Burlington and Peter Smith former Lt. Governor and former incumbet U.S. Congressman and several others have had their political careers ended by Sanders.
Sanders has also suffered some political set-backs but they have been few and far between.
In recent years he has become even more popular as witnessed by his margin of victory against Congressional campaign opponents during that time. Like it or not Sanders has remained an agonizing fact of life for those who would like to end his political career.
Veteran political observers have learned not to underestimate his energy, intelligence and unique abilities as a savvy communicator and political street fighter.
Family Based Agriculture

Our interview with Sanders began with a look at the current state of Vermont Agriculture. "Senator's Leaky and Jeffords led the fight in the Senate and I have led the fight in the house for The Milk Program while certainly not enough, has brought in since its inception some where around 50-million dollars for our small state. With out that many small family farmers would not have been able to survive. Clearly, given the very low milk prices, the wet weather we had in the spring and other current factors we need to do more. We are now working on a package of 4-billion dollars for the whole country called 'The Emergency Farm Relief Program', to help farmers nationwide. We have the votes in the house and the Senate to pass that legislation. The bad news is that up until this point, the president has insisted that he will veto any legislation that includes this 4-billion dollars. The president thinks that its ok to have hundreds of billions of dollars in tax breaks for the wealthiest 1-per-cent but to save family based agriculture, the president has his doubts. Needless to say I strongly disagree with him and there are many others in the House and Senate that strongly disagree with him and we will continue to put as much pressure on the administration as possible to get the president to sign that emergency relief legislation."Health Care/Senior Issues

We asked the Congressman to respond to a recently run statewide television ad campaign in which his likely opponent in the fall election Republican Richard Tarrant has suggested that Sanders plan for a Federally funded national health care plan will hurt senior citizens in the long run.
"Well first of all I'm running against a guy who is one of the wealthiest people in the state of Vermont, who is going to spend at least five times the money that anyone has ever spent in a Vermont campaign. If we spend two he will spend ten million dollars and he is saying things in his ads that are simply not true. I have spent much of my career in politics fighting for senior citizens. I'm proud to have brought into Vermont The Commodities Supplemental Food Program which is now providing nutritious boxes of groceries to 4,000-Vermont families. I'm proud to have led the effort against the privatization of Social Security and was the first member of Congress to take senior citizens over the Canadian border to buy less expensive prescription drugs. Any idea that a house passed proposal that I would support would lower benefits for seniors is totally without substance.
On the contrary, what we are fighting for is a Medicare prescription drug bill that does not have the "doughnut". This allows Medicare to negotiate lower prices for prescription drugs with the drug companies." Summing up his response to the ad, Sanders was point blank. "This guy is way behind and I think you are going to see a lot of nasty television ads and a lot of negative and dishonest statements made by him. Everyone who knows me knows that the last thing in the world that I would ever do is support legislation that would lower health care or another benefits for senior citizens."Sanders indicated that he is looking forward to debating Tarrant one-on one assuming that Tarrant wins his primary in the fall. "He will have to win that and I assume he will and then there could be a series of debates and i am looking forward to them."

Terrorism/The Middle East

On a day when Israeli Special Forces backed by tank and artillery support penetrated deeper into southern Lebanon we asked Sanders if he could see any light at the end of the tunnel in this region. "What is happening in the Middle East is a tragedy. But lets go back to Iraq. I voted not to authorize President Bush to invade Iraq and I think that history will record that as the right vote. I think that in many respects that the president misled the American people into that war and the results are 2600 dead including 23-Vermonters, 19,000 wounded, 300-billion dollars spent, The results are also in the massive growth of Islamic fundamentalism. This is a very, very dangerous ideology. And what you are seeing with Hesbola and Hamas are manifestations of that. I think that it goes without saying that Israel has the right to defend itself when attacked but I also believe that Israel's distraction of Lebanon's infrastructure and the killing of innocent civilians has certainly been counterproductive in an extraordinary way to the peace process that has got to take place.
Also I think that President Bush's focus on Iraq meant that the United States took it's eye off the admittedly difficult but important peace process that the Clinton Administration attempted to bring together between the Palestinians and the Israelies. The peace process has to continue in order to stabilize that area. I fault President Bush for making a bad situation worse. Right now the U.N. and the International community will need to play a very significant role in bringing the parties together." Sanders went on to say that Israel has, "the right to exist free of terrorist attacks and there also has to be an independent Palestinian State. There also has to be the ending of terrorism in the Middle East and people who's goal in life is to destroy Israel. Admittedly this is a difficult menu to achieve but the United States should be working with other countries around the world to achieve it."Funding For Veterans

The Congressman has pledged to continue his fight for those who have put their lives on the line to protect our freedom. " We will continue to fight for our Vermont veterans and our veterans across the country to see that they get the benefits that they are entitled to. Currently the funding for the Veterans Administration is inadequate. There are veterans here in Vermont and all across the country who are waiting on waiting lists and there are veterans who are not getting the benefits that they were promised when they signed-up. This must be done in a timely manner...and one of the things that we are working on very hard in Washington is to increase the V.A. budget. If the Bush Administration can afford to give billions of dollars in tax-brakes to the richest one percent of the country, he surely can afford a few billion to adequately fund the Veterans Administration and give these brave men and women the benefits they deserve."
The Voice interview with Congressman Sanders was conducted on Tuesday August 1, 2006.
---