Main Sections
Front Page
Sports
Valley Vitals
It's in the Stars
Starwise
Archives
Links
About The Voice
Contact Us
Fun With The Flock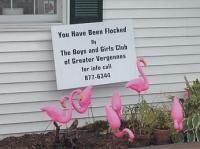 photo by Mike Cameron
Tuesday August 1, 2006
By Mike Cameron
Imagine over 30 Plastic Flamingos in front of your business, your home, your farm, there, everywhere! They will not leave deposits like Canadian Geese, they are not aggressive, won't rob the bird feeder or chase your pets and you can pet them and not get bitten... ever! Nice birds, nice beaks, nice legs, and they are a handsome addition to anyone's best wishes for people we care about. The more the merrier because let's face it, when you've been "Flocked," it leaves a definite impression.
Last week Gaines Insurance in Vergennes was "Flocked" and they loved it. Other folks have too... The birds pictured above featured only a part of the flock lined up across the front of Gaines offices on Monkton Road. The "Flock" is ready to fly once again and they are lining up landing spots through their agents at The Boys and Girls Club of Greater Vergennes.
BGCGV Executive Director Mike Reiderer explained that the "Flock" continues to be utilized as a fundraiser for the club. "We always have a great time with this. The kids love it and the folks who have been 'Flocked' seem to enjoy it. The project continues to give our club some excellent exposure and community awareness and it is a good fund raiser for us," Mike reports.
To find out more about "Flocking-Fees" call BGCGV at 877-6344.
---
---
Related Stories:

· The Barnyard Chronicles: Chickens and Foxes

Advertisements
Search our Archives