Geiger Named August Business of the Month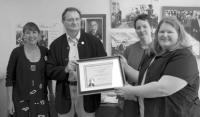 photo provided

Connie St. George, Wolfgang Miska and Dorothea Langevin accept the August 2006 Business of the Month plaque from Beth Crosby of the Chamber.
Tuesday August 1, 2006
By Beth Crosby
Addison County Chamber of Commerce Announces August Business of the Month Darcy Tarte, Chair of the Addison County Chamber of Commerce's Publicity and Promotions Committee announces that the August 2006 Business of the Month is Geiger of Austria located in Middlebury.

Geiger of Austria was founded in 1906 when Mrs. Barbara Geiger decided to use her skills as a knitter to knit patterns from her homeland of Tyrol. The garments were quickly sought after, and soon she had to expand her business in order to keep up with the demand. In 1926, Mrs. Geiger handed the business over to her son, Peter.
In 1975, Peter's son Hansjoerg took over the business, and he expanded operations into the United States by opening the first and only daughter company in Middlebury, Vermont. The Middlebury facility opened in January 1981 and now employs about a dozen employees. Geiger is still a family owned and operated company, now owned by the 4th generation of Geiger's. The company is celebrating their 100th anniversary this year and now serves 35 countries around the world.
Wolfgang Miska has been with the company since 1983 and has served as executive vice president and general manager of the Geiger facility in Middlebury for the last 18 years. Several other employees have been employed at Geiger for over ten years. This longevity of their dedicated employees tells us that Geiger of Austria is a wonderful place to work.
Geiger of Austria has won several awards for their contributions to the apparel industry, as well as for their contributions to the community and to the environment. The company has been the recipient of two DIVA awards, which celebrate the best of the best in the fashion industry, one in 1997 and one in 2003. Geiger has also won silver and gold awards from the State of Vermont due to their commitment in educating tomorrow's business leaders through the School to Work program. Over in Austria, the company has been awarded an environmental award due to their innovative practice of not using chemicals in their wool. The company has also reduced waste at their facilities by using scrap fabrics for give away items, and by donating the fabric to schools instead of throwing the fabric away.
Geiger has been very creative with the use of their additional space since moving some of their operations outside of Vermont. The additional space has created wonderful facilities for other area companies needing expansion room.
The Addison County Chamber of Commerce is proud to have Geiger of Austria as a member and congratulates them for being chosen as the August 2006 Business of the Month!
---