Milfoil Movers...
Retired marina owner and long time friend help L.C.R.A. combat invasive weeds on Southern Lake Champlain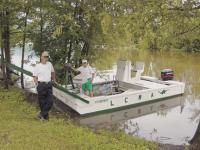 photo by Mike Cameron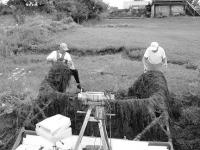 photo by Mike Cameron

(L to R) Charlie Barry and Thad Bronson cut milfoil from the L.C.R.A. weed dredge boom on Thursday 7-13-06. In one pass the pair pulled 600 pounds of weeds from the lake bed near Lapham Bay boat launch.
Tuesday August 1, 2006
By Mike Cameron
If you've never heard of Thad Bronson, Charlie Barry or The Lake Champlain Restoration Association you might want to get acquainted with with all of them especially if you own lakefront property on Lake Champlain which has become infested with Eurasian Milfoil and other nuisance aquatic vegetation.
These aquatic weeds are clogging many parts of the Champlain shoreline and they seem to have a never- ending ability to prorogate themselves year after year.
Bronson has known about the problem for as long as there has been a problem. He owned and operated Bronson Marine on Route-30 in Cornwall for many years.
After selling the business, Thad retired to do some fishing and traveling but he never got the bug out of his system to be on Lake Champlain. Florida called but Bronson and his wife remained lake shore residents and visit the sunny south during the colder months. They have seen the weed problem evolve and they, like many along the lake are concerned.
Charlie Barry shares that concern. As an avid outdoorsman and lake shore resident near Lapham Bay, Barry shares a body of knowledge with Bronson about the weeds and how they have had an increasingly negative impact on the lake.
Neither man claims any academic or scientific training in the field of aquatic botany but they can see, smell, and touch. Like any person with a good grasp of common sense these two men have literally floated themselves into the problem on a daily basis by working with the Lake Champlain Restoration Association to help member lakefront property owners get some weed relief.
Bronson, while chomping on his trademark cigar, explains. "The weeds have become so thick that folks can't even getheir boats out to open water without plowing through a thick mat of milfoil. It's a serious problem and we are attempting to do something about it. What we're doing now won't solve the problem but it will give people some relief."
The relief that Thad Bronson is referring to has taken on the shape of a specially designed vessel with a big steel bow boom and electric wench that raises and lowers the devise. To this boom steel cables are attached horizontally.
The rig when lowered projects from the bow of the "weed barge" and is lowered into the milfoil while under power from a 50-horse power Mercury outboard motor.
As the business end of the boom works it rips and cuts weeds from the lake bed and drapes them over the cables. "We usually pull about 600 and up to 800 pounds of weed in a normal pass." Thad explained during a recent demonstration for The Valley Voice, with Thad at the wheel and Charlie operating the boom, the pair make an impressive swath through an aggressive growth of weeds near a customers beach frontage.
When the boom has been loaded with weeds the flat bottom craft will simply slide up onto the beach not unlike the old navy Mike boats of WWII. Instead of off-loading troops this Mike boat look-alike off-loads weeds like eurasian milfoil, water chestnut, and other noxious vegetation.
The weeds are so thick and matted that they have to be cut from the boom cables with sharp butcher knives. The 'harvest' is then deposited above the designated "high water mark" of the lake to prevent them from being re-introduced into the lake from wind or water.
As Bronson and Barry explain it is not a panacea but it is appreciated by L.C.R.A. member property owners who began the not for profit association in 2001 by registering with the Vermont Secretary of State.
Their first organizational meeting was at the Ilsley Library in Middlebury in 1999. The organization now has over 100 dues paying members and built the weed cutting barge now being employed by Thad and Charlie.
In the past couple of years the project has drawn the attention of local political leaders and Governor Jim Douglas gave the L.C.R.A. his enthusiastic endorsement after visiting a weed harvesting job site last fall.
"Grant funding from the State of Vermont is in the works for the weed removal project," Bronson explains.
Funding could reach over 290-thousand dollars. Supporters of the project are encouraged with the continued support from the Administration and the future looks bright.
Asked how he decided to become actively involved, Thad is quick to explain. "I was concerned about the weeds and have been for years. Fishing has been affected especially the walleyed pike right in this section of the lake," he gestures using his cigar as a pointer. "The motor on the barge was loading up and not co-operating at all and I was asked to take a look at it to get it running right again."
Charlie adds, "We knew that he was concerned about the lake and is a great mechanic on outboard motors so we asked him if he would like to run the barge after he fixed the motor and he agreed. We have been working together ever since."
Both men are quick to explain that what they do accounts for only a small fraction of the millions of tons of nuisance weeds that are impacting the lake but their efforts are not in vain. A path through the weeds gives boaters a much better opportunity to enjoy a wonderful recreational resource thanks to the ongoing efforts of the L.C.R.A.
To find out more about the Lake Champlain Restoration Association and the organization's long range plans you can visit them on the web at: www. lakechamplainrestoration.org. L.C.R.A. officers can be contacted by phone at 1-802-758-2909.
You can also contact Thad Bronson to inquire about the fee schedule to have your lake front cleared of milfoil at 1-802-758-2669.
The L.C.R.A. sums up their mission statement by stating "The recreational usability of lake Champlain is directly related to tourism, property value, tax revenue and quality of life throughout Vermont. The Lake Champlain Restoration Association is committed to restoring the lake to its former status as: 'The Jewel of Western New England
---