Marnie Wood A Facilitator And Guide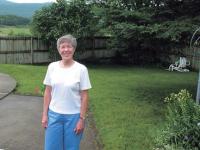 photo provided

Marnie Wood
Tuesday July 18, 2006
By Larry Johnson
Marnie Wood sees her role as an educator as someone who "points the way," a facilitator and a guide. After 30 years of teaching---22 of those years in Bridport teaching 3rd and 4th grade---Marnie is confident that the way to capture a child's curiosity is by exposing him or her to the wonders of the immediate environment.
"I love the 3rd and 4th grades," Marnie told me, "because the world is opening up for them. They are all empty vessels. It's almost magical when the light bulb goes on in their heads." Marnie's passion is history and social studies, and she goes to great lengths to acquaint her students with local historical points of interest. "I'm known as the 'Field Trip Queen,' " she acknowledged. "I like to take the kids to actual sites. We go to Crown Point, Fort Ti, Chimney Point and Mt. Independence. I think it's important to integrate into the curriculum what is local. We study our town's history as well."
Two years ago, the 3rd and 4th grade classes participated in a reenactment of the taking of Fort Ticonderoga. The kids and their families even made their own costumes. Rich Strum, Director of Interpretation and Education at Fort Ti, visited the school and related the fact that the Battle of Ticonderoga, on May 10, 1775, was America's first victory in the Revolutionary War. It was a battle won by The Green Mountain Boys, led by Ethan Allen and Benedict Arnold. "The kids loved being part of the reenactment. It was a magical time for them and for me," Marnie explained.
"I like to show my students that I'm still learning," Marnie told me. "I want them to understand how important life-long learning is. I'll do whatever I can to show them what an interesting place the world is."
Marnie also believes in instilling a sense of respect in her charges: a respect for self, for others, and for property; and this translates into actual community service. At Halloween her kids collect for UNICEF, and after Katrina, the school sent art supplies and letters to a school in Fenton, Louisiana, and they got letters back.
In Marnie's classroom, critical thinking exercises are on-going, and this is accomplished in a variety of ways: through history, social studies and art. The art component is coordinated with the MiddArt Program at Middlebury College. Greg Humphrey, Director of Elementary Education for the Teacher Education Program, Sandi Olivo, Curator of Education and Jan Willey, Addison Central Supervisory Union Associate Superintendent have developed a program with local schools to expose students to art as a means for critical thinking.
"We have students look at various images," Marnie explained, "and then I ask them what they think is going on in the picture; and then I may follow that with 'What do you see that makes you say that?' This process also works for reading, social studies and history: 'What did you read that made you think that?' I might ask. Once, when I brought a cannon ball into the classroom, we came up with ideas about why it happened to be in Bridport."
As Marnie pointed out, we all forget much of what we learn at school, but learning to be critical thinkers and life-long learners is what education should be about.
Marnie explained, tongue-in-cheek, that her serendipitous arrival in Vermont, 23 years ago, was part of what she refers to as the "Cosmic Delivery System." Brought up in San Diego, California, she went to local schools, graduated from San Diego State University with a degree in Social Science, and started teaching when she and her first husband were living in Phoenix, Arizona. Marnie also taught for five years at the Cathedral School for Boys in San Francisco, as well as doing a teaching stint in Germany for one year.
It was on her way back from Germany to San Francisco that she stopped in Vermont to visit her sister who lived here at the time; Marnie was hooked on the state and has been here ever since.
She started substitute teaching for a while and then was offered a full- time, temporary position taking over a 3rd grade classroom from a teacher on leave. The lady decided not to return and Marnie was eventually offered her job. The rest is history.
Marnie admitted that she had always loved the big city culture, especially San Francisco… "but Middlebury College provides me with all the culture I need these days. I don't even like driving to Burlington anymore. For me there is great pleasure in being with my students. I enjoy getting to know all the children in a family, and being so connected to the community; bumping into my students as I move about and being a part of their lives is what is really important to me." Who could ask for more?
---