New Works New Styles New Themes
Warren Kimble Goes Beyond Folk Art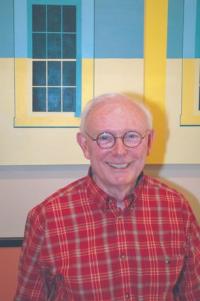 photo by Ed Barna

Warren Kimble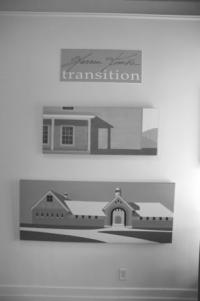 photo provided
Tuesday May 16, 2006
By Ed Barna
The Warren Kimble fans who think of him in terms of serenely stylized New England barns and houses, whimsical farm animals, and Americana like Uncle Sam are about to get a big surprise.
As two ongoing exhibitions show, he's quite capable of moving in very different directions, and quite surefootedly. In Brandon, where "Transition" will be up at the Brandon Artists' Guild downtown gallery through June 29, and at Green Mountain College's Feick Center in Poultney, which will have "How Many Widows?" through June 17, people can see the results of time spent at another Vermont cultural institution: the Studio Center in Johnson.
Every year, Kimble said in an interview May 10, he spends a month at this artistic colony (which has revitalized Johnson, according to some sources--score another for the Creative Economy). Free of the telephone and other harassments, and able to get his meals at the dining hall shared by about 50 attendees, he can gather his forces and make advances.
The Brandon works take off from his continuing love of New England architecture, but aren't tied to their referenced locations. He showed a kind of "first draft" work sheet for one: a Tetris-like assemblage of rectangles of different sizes, just short of intricate in its arrangement of the forms, but at the same time balanced.
Form and color, not "local color," predominated in "Transition." Kimble said he was especially pleased that when he saw the group of pieces together at "the BAG," people call it, he could see that the colors related to each other across the different works.
The name "Mondrian" came up in a couple of discussions, not because Kimble's new work is as abstract as that of the 1872-1944 Dutch painter Piet Mondrian, but because it shares that kind of concern with a balance of forms and colors. It's as pleasingly decorative as the folk art, but in a different, more "artistic" way.
The Green Mountain College collection won't be going on many corporate walls, because its unsettling and edgy. Kimble said it was an artistic development more than a political statement (this writer's word for it would be "humanitarian"), but those who see a flag with one fractured star bordered by barbed wire will rightly see the influence of the Iraq War.
"What's going to come out is a great surprise. It just happens. I can't explain it," Kimble said. But there was one image that dropped into his life and crystallized many thoughts and feelings.
Near the start of a recent session in Johnson, he went antiquing. A former antiques dealer who taught about antiques among other things at Castleton State College earlier in his career, he has never lost his love of these past treasures.
What caught his eye this time was a dressmaker's form, a torso shape with a metal attachment place where a head would have been. He bought it, brought it back to his room at the Studio Center, and at a moment when he was hearing about more casualties in Iraq on his radio, he looked over at it and saw how it could represent a soldier's wife at her window.
Thus began a series that uses the mannequin's image as cleverly as Uncle Sam has been integrated into other Kimble works. The other side of those headlines, the losses of women and children--and widowers, nowadays, he realizes--are given their due attention by these evocations.
Ask Kimble which of his works is his favorite, and he is likely to answer "The next one."
"To grow as an artist, you have to get out of what you're known for," he said. "That's very difficult, because that's what people know you for, and expect to see. You really have to be gutsy."
Kimble's immense success so far has given him freedoms that many artists don't have, and he is using them in a way that will, in this reviewer's mind, reshape his legacy. That may especially be the case if other colleges decide to invite his wartime collection.
The images in "How Many Widows?" won't be sold, he said, because that group of works needs to remain intact. "I want it to travel," he said.
For more information, call the Brandon Artists' Guild at 247-4956 and Green Mountain College at 287-8000.
---
---
Related Stories:

· Elderly Services Will Host Open House