Main Sections
Front Page
Sports
Valley Vitals
It's in the Stars
Starwise
Archives
Links
About The Voice
Contact Us
A Mile Of Jonquils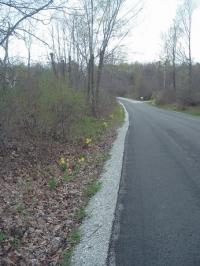 photo by Dale Piper
Tuesday May 2, 2006
By Dale Piper
On a back road in Weybridge is a most cheerful sight, making one wonder how it got there. Actually, the story goes back to 1949 in Kentucky, where Sandra Button, now of Cave Road in Weybridge, grew up. Her father, along with a neighbor, planted hundreds of yellow jonquils along either side of the highway bordering the family farm, just for the sheer joy of seeing them bloom each spring. The blooms stretched for a mile and no doubt brought smiles to all who traveled that road.

About a year ago, a family friend sent Sandra a newspaper from her home town, which contained an article about someone else doing the same thing. Sandra's first thought upon reading it was "I should do that!" And do it she did. So far she has covered one side of the road and has begun on the other, but has a way to go yet. She bought the bulbs and planted them herself, creating a sunny border for the enjoyment of her neighbors and anyone else who travels the road. (While planting, she also gathered all the beer and soda cans dumped alongside the road and turned them in to help pay for the bulbs.)
As an aside, A Mile of Jonquils is also the title of a cookbook Sandra compiled. This project was born while her mother, then suffering the onset of Alzheimer's, was staying with her and still wanting to cook. Sandra helped her by digging out her collection of old family recipes, most of which were of the "no fail" variety and encouraged her progress by cooking along with her and surreptitiously correcting errors. Of this loving effort came a whole book of recipes compiled from not only her own collection but from friends and relatives. It is full of the goodness that many of us remember from our childhoods, when folks were less concerned with sugar, cholesterol, hypertension, the effects of red meat and other dietary foibles of today - although by reading far enough, undoubtedly one could find a number of recipes that could be adapted. In addition to the food, there are numerous recipes for home remedies like Dutch Earache Remedy and dandelion juice for the removal of warts. A whole section is devoted to non-edible concoctions like modeling dough, Easter egg dye and even a gingerbread house!
Both efforts reflect Sandra's philosophy of "being in touch with the past." Reading parts of the cookbook also reveal her reverence and respect for the people who came before her and their customs and beliefs. So, even though the jonquils' season is about over, perhaps a trip down Cave Road will give you an idea of the magnitude of Sandra's project and the cheer that it adds to an ordinary trip. What a way to honor one's father and the joy that he took in providing pleasure to others!
---
Advertisements
Search our Archives