Dog Team Tavern In Its Sixth Decade
By Dale Piper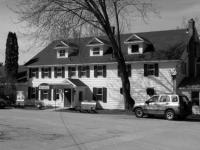 photo by Dale Piper
This year Addison County's foremost culinary landmark enters its sixth decade as a country inn, although its actual age dates back to the 1920s. At that time, Sir Wilfred Grenfell and his wife, Lady Anne Grenfell, operated a mission serving Labrador and Newfoundland. In addition to ministering to the population's spiritual and medical needs (Sir Wilfred was a physician as well as a missionary), they taught the people to produce local crafts, particularly hooked mats and rugs that depicted life in that unforgiving clime. Lady Anne built and operated what is now the Dog Team Tavern as a teahouse and shop where the handicrafts were sold for the benefit of the people struggling to survive. Now known as Grenfell Mats, these works of folk art are prized by collectors worldwide.
In 1946, Eben and Catherine Joy, longtime volunteers with the Grenfells' mission, purchased the property and began operating it as a traditional country inn, serving hearty fare to locals and travelers alike. Such notables as Robert Frost, Charles Laughton, Eleanor Roosevelt and, more recently, Neil Diamond, enjoyed the family-style meals. Little changed during the Joys' stewardship of the restaurant, nor did anything have to. The Dog Team earned rave reviews repeatedly from some of the best restaurant critics.
Ready for retirement, in November of 1987 the Joys sold the restaurant to Christopher Hesslink, who was then operating one of the Perry Group's restaurants, the Dakota Steakhouse in Pittsfield, Massachusetts. Ready for his own place, he came upon the Dog Team, not only a turnkey business with no problems to correct, but a prominent historic landmark as well. "All I have done is maintain the quality and add some menu items," said Hesslink. One major change he did make, however, was the addition of catering services, which have been a great success.
Not only does the restaurant host parties and receptions on-site, but they cater events at such places as the Old Lantern in Charlotte, Kingsland Bay State Park, the Vergennes Opera House and the Middlebury Veterans of Foreign Wars, as well as at private homes. Although the Dog Team is not open for lunch, Hesslink serves bus tours and group meetings during the day.
The upcoming season will be "a crapshoot," according to Hesslink. Economic factors such as gas prices may limit travelers and general economic conditions, including home heating prices, have already limited local clientele. "Weekday traffic is noticeably down, although weekends haven't changed. People have less discretionary income and it does affect going out to dinner." He also noted that people wintering in Florida have not yet all returned, so he is not sure of the effect on them. There are, however, families who show up, without fail, once a year. They may be vacationing on the lake or passing through, but Hesslink said he can always count on them.
An interesting fact about such a prominent restaurant is the fact that the Dog Team does not have a resident chef. Several people, including Hesslink himself, share the cooking, and the results are always consistently great. In the beginning, he spent most of his time in the front, greeting guests as a gracious host, but he has found that he enjoys the kitchen, finding it a "hands-on change of pace." Whatever he is doing, it works.
Probably the most noticeable feature of the restaurant is the fact that it displays what could arguably be the finest collection of antiques in the area. In addition to the fine, old furniture and fixtures there is a vast display of folk art from Labrador and Newfoundland, framed Vermontiana and various collections in cases. Waiting to be seated, seldom a lengthy process at the Dog Team, is no wait at all with all there is to look at and admire. Don't miss the fur-trimmed coat and child's suit from Labrador!
No discussion of the Dog Team would be complete without mention of its most well-known server, Arlene Lafave, a real pro who devoted 45 years of her life to her profession, and toward the end became a noted collector not only of Grenfell mats but of fine antiques in general, no doubt inspired originally by the restaurant's own collection. At her passing n 1998, her personal collection was one of the finest in the state.
Dining out may have become a rare treat for many, but that rare treat may be best enjoyed at the Dog Team Tavern.