Main Sections
Front Page
Sports
Valley Vitals
It's in the Stars
Starwise
Archives
Links
About The Voice
Contact Us
Connor Sisters Take Top Honors in Miss Vermont National Teenager Scholarship Competition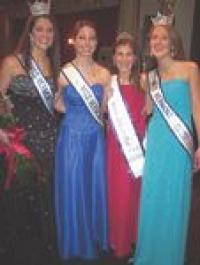 photo provided

Pictured above (L to R): Samantha Connor, Alexandra Larrow, Erin Connor and Brooke Connor at the VNTS competition.
Tuesday April 18, 2006
By Cookie Steponaitis
Sunday, April 9th saw a packed house at Rutland's Paramount Theater. The crowd was cheering for a talented group of young women who were competing for the titles of Miss Vermont National Teenager, Miss Vermont Junior National Teenager, and Miss Vermont Sweetheart. At stake were scholarships and prizes totaling over $ 160,000. As the crowd supported them, each contestant appeared in talent, speech, on stage question and in evening gown. Earlier that weekend, they had also had interviews with a distinguished panel of judges and a scoring of their resumes including academics, community service and extracurricular activities. Rounding out the talented field was outgoing 2005 titleholders Alexandra Larrow and Celie Degesse.
When the lights all dimmed and the results were announced, the horse racing term of a triple crown was appropriate. Bringing home top honors in all three divisions were three sisters from the same Bridport farm family. Samantha Connor, 17, was crowned Miss Vermont National Teen, sister Brooke, age 13, was crowned Miss Vermont Junior National Teen, and sister Erin, age 11, was crowned Miss Vermont Sweetheart. In total, the three sisters earned over
$70,000 in college specific scholarships and additional prizes. They will go on to represent the state of Vermont at the national competition held in Nashville, Tennessee in July.
Erin, the youngest of the group also earned special recognition on stage for having the highest interview score of all three divisions, outscoring girls from ages 10-18. " It was a great interview," she commented." I got the chance to talk to the judges about issues and events that are important to me. We talked about my family, my faith in God and my love of the animals and natural habitat around Vermont." Talking to people and expressing her views is not a new skill for Erin, as she currently also holds a national title in speech for the Fraternal Order of Eagles. Sister Brooke is the current Eagle International Champion and Samantha recently earned the state championship in the American Legion Oratorical Contest.
Brooke, whose talent performance showcased her using sign language to the song " Shout to the Lord", looks at these competitions as a way of learning new skills, meeting new friends and having a chance to earn scholarships for college." We took our preparation seriously for the event," she remarked. " Like anything else you do in life there is a direct connection between how hard you work at it and how you do. I spent a great deal of time preparing my paperwork, working on my speeches and practicing how I carried myself on stage. Each competition takes you to a new personal level and makes you try things you are not as likely to do without the competition situation." Brooke's involvement with competitions goes back three years to her first entry into a speech contest for the Fraternal Order of the Eagles. " At first, I was very shy," Brooke remarked. " As I did more of them I became more comfortable with the skills needed to organize, memorize and speak to a group of 50 or 500. Through the programs like the Eagles, Veterans of Foreign Wars and others, you gain scholarship money, a sense of your own history and a realization of how you relate to the American ideals of democracy. " "Besides," she grins, " It is just a lot of fun!".
Samantha, at sixteen was no stranger to the National Teenager Organization as she was the junior titleholder two years ago. With her win last Sunday, she joins Vergennes resident Lindsay Gallison as the only other Vermonter to hold both titles in the National Teenager program. Lindsay was the titleholder in 2001 and 2003. Currently, she is attending college on scholarships she won through the Miss National Teen Organization. When asked about the year ahead Samantha's face took on a huge grin. " It will be exciting," she remarked. " The best part is that I get to experience it and share it with my sisters. Everything will be a family adventure."
Just what does all this mean? It means that for the three sisters the year ahead will again be a family affair. Appearances will be scheduled for the three. The competition will happen at the national level for the three. The fundraising will be times three, and they go forward into an exciting year to see and learn about their state. As always, they will work together.
America's National Teenager is a scholarship organization that has strengthened and supported the development of leadership and scholastic skills in young teens for the last thirty-six years. Information on the program can be found at http://www.nationalteen.com/ or by contacting Vermont State Director Pam Nichols at Pam Nichols, 1013 Rt 30, Dorset, Vermont 05251


---
---
Related Stories:

· VUHS Students Shine At State History Competition

Advertisements
Search our Archives