David Martin's Electronic Wizardry On Display At Brandon Artists Guild
By Ed Barna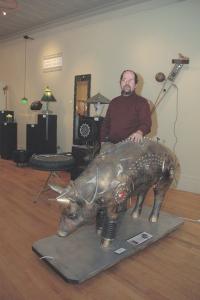 photo by Ed Barna

David Martin stands by his creation "CyBOARg". This along with his other sculptures are now showing at the "UnEarth" exhibit at the Brandon Artists Guild on Center St. in Brandon through April 28th.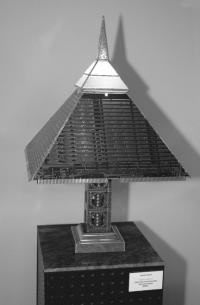 photo by Ed Barna

A lamp from David Martin's "UnEarth" Exhibit at the Brandon Artists Guild.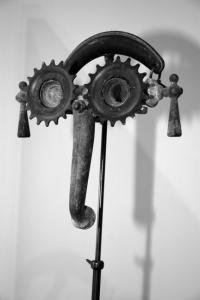 photo by Ed Barna

A sculpture from David Martin's "UnEarth" Exhibit at the Brandon Artists Guild.
Anyone who thinks they've seen everything in the art world should go to downtown Brandon, where David Martin will have an exhibition titled "UnEarth" up through April 28.

The word "sculptures" is accurate but misleading in this case of recycling on hyperdrive. Bygone technology--computer circuit boards, vinyl records, all sorts of electronic components--are reborn as lamps, clocks, and objects that defy categorization.
Those who got to see Brandon's "Really, Really Pig Show" may recall how popular Martin's CyBOARg literally lit up the event. It's there in the show: the out-of-state owner for some reason didn't want it any more, and donated it back to the Brandon Artists Guild, who have put it on sale again.
Going back to Syracuse College, Martin trained as an architect, but as part of that training took courses in drawing and ceramics. He became fascinated with the use of found objects as art materials--trash into treasures, as it were--and kept making things at the same time that he was pursuing his work career.
Today, he's a senior designer with the McKernon Group. Among his projects was putting together the interior space for Café Provence, next to the Guild gallery--where they have on display his Rocket Chair from "Brandon Rocks," the Guild's community art event featuring rocking chairs. Let's just say that recycling tractor tires reached a new level with this seat, which the Cafe Provence leaves outside for the children who love to climb onto it.
Martin also had a hand in the design of the Guild gallery. But what he's best known for is unpredictable, highly entertaining gizmos.
"He makes people smile," said one gallery attendant.
A Guild release said, "Martin's unique vision has made an indelible imprint on the artistic landscape of the community he calls home. He has played a vital role in Brandon's emergence as one of Vermont's leading arts centers."
The Brandon Artists Guild gallery is close to the right-angle bend in Route 7 at Brandon's center. It's open 10 a.m. to 5 p.m., all days except Mondays (seven days a week starting May 1).
The work of many other Guild members is on display, in smaller numbers, and visitors can pick up a leaflet listing seven other local galleries. The Guild phone number is 247-4956.