Danyow Farm Consistently Achieves High Quality Milk Production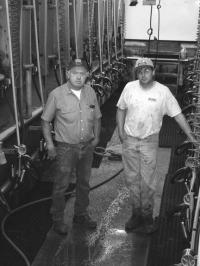 photo by Mike Cameron

(L to R): Jim Danyow and Son Brett at family farm milking parlor on Walker Road in Ferrisburgh.
Tuesday March 21, 2006
By Mike Cameron
The family farm that once was a 40-cow operation back in the 1950's evolved into a 60 to 75-cow business in the 1960's and 70's. Many dozens of these small farms that dotted the Green Mountain State have now disappeared.

The farms that remain are larger and much more sophisticated than those in the past. New and ever changing technology can be the difference between success and becoming part of Vermont folklore.
A recent visit with Jim and Brett Danyow (father and son business) of Ferrisburgh brought into focus many of the factors that Vermont dairy farmers are facing today and will face in the future. The connection with the past remains but the business of farming has changed and is likely to continue do so as the years of the twenty-first century progress.
Jim Danyow has seen a good part of Addison County farm history and thus can appreciate the challenges farmers face in the future. "When I was a kid growing up on this road (Walker Road in Ferrisburgh) there were 5 farms milking less than 250 cows collectively. Today two farms are milking approximately 900 cows," he explains.
Those numbers speak volumes about the changes that have occurred in the dairy business. In a nut shell, today, fewer farmers are milking about the same number of cows in this particular section of the state. It would also be fair to say that the same ratio would more than likely hold true for the rest of the state. The rub is that being profitable is a management issue. It still boils down to what can you do with your available resources.
The main reason The Danyow's continue to be successful is by being sticklers about the quality of their milk. Jim Danyow explains further that quality is the key when it comes to extra dollars in the milk check. "We earn an extra 30-cents a hundred-weight for the right numbers in butter-fat and protein and those are the numbers we work to achieve." The right balance of feed and other variables need to be properly managed to achieve these high numbers and the Danyows have a track record of doing so. A look at their test numbers over the past 15-months reveals consistently high ratings for milk produced on their farm. Both men and their employees have a right to be proud of this.
In the past 20 years the Danyow farm has expanded. Their original free-stall barn built in 1980 replaced their conventional barn. Their original milking parlor was built in 1981. Jim has a very clear re-collection of that milestone. "The cows were moving into the parlor and out faster than I could keep up with them. Eventually we learned and things began to run smoothly."
Since the 1980's, the Danyow's have added on to their free-stall barn in 1995 and doubled the size of their milking parlor from a double six to a double twelve. The farm milks 420 Holsteins three times a day.
With an entire herd of 900, including 500 cows, the Danyows have plenty to keep themselves and their 11-employees busy seven days a week.
Brett Danyow explained that this was a decent year for hay with four cuts expected to be put away. "We were lucky here in Ferrisburgh and didn't get the heavy rainfall that hit further to our south in places like Bridport and Addison. The rainfall was just about right. We put the last tire on the corn pile this morning. Now we're in the process of finishing up the fourth cut of hay and it looks good," he explained.
Both Brett Danyow and his father Jim are guarded and cautious when discussing what the future of Vermont Dairy Farming will be. They both understand the politics of milk pricing and were able to weather the storm of milk prices falling through the floor about three and a half years ago. Energy costs are another challenge. Jim is philosophical, "the prices go up and the prices go down. It's a fact of life in this business," he says with a smile.
We didn't ask the two men if they enjoy what they do for a living. Carefully listening to them talk about their work provides an ample answer. Dairy farmers who are successful all have one thing in common it seems. Perhaps it could be best explained in these terms "If it is to be, it is up to me." Farm families truly are a Vermont tradition.
---