Sheldon Student Show Impresses Visitors At Well-Attended Opening Reception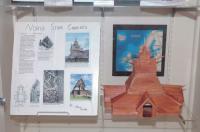 photo by Ed Barna

Norse Stave Church, Penn Jenks.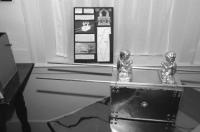 photo by Ed Barna

Arch of the Convenant, Abe Freidin.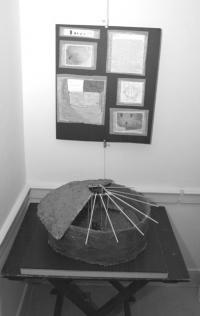 photo by Ed Barna

The kivas (Hopi), Kyara Dorvee.



photo by Ed Barna

Vatican City, Rosie Nelson.
Tuesday March 14, 2006
By Ed Barna
Two area private schools have combined to supply the Henry Sheldon Museum of Vermont History in Middlebury with an exhibition that had opening reception attendees using words like "incredible" and "amazing."
"It's Christmas all over again," remarked the Sheldon's Mary Ward Manley, looking at how many children and some adults were exploring the gift shop. (Final visitor count for the two hours: 152.)
In the first upstairs room, students of the Aurora School in Middlebury had on display the results of their study of folk art. Not only book learning, but also hands-on work, resulted in their presentations on quilting, rug hooking, Conestoga wagons, and much more.
To start the March 3 event (the joint show will continue through April 1), there was an Aurora chorus. Appropriately for a show about the work of the nation's common folk, they closed with a rousing version of Woody Guthrie's "This Land Is Your Land."
Then the packed crowd was free to move to the second room, where an even more ambitious exhibition by the middle school age students at Ripton's North Branch School awaited. All this year, a major part of the school's curriculum has centered on religion and belief: not one tradition as part of a church-run school, but traditions all around the world.
Teacher Tal Birdsey noted that for most school around the country, the controversy over evolution and creationism has concerned whether religion has a place in science courses or whether it should only be studied under such disciplines as comparative religion. "Our idea, which forms the philosophy of the school, is that there should be as few walls between disciplines as possible," he said.
"One day I may read them a poem by the Islamic Sufi mystic Rumi," said Birdsey. "Another day we may explore the creation story in Genesis. Then we compare and discuss the two."
At the Sheldon, the students have displayed some of the world's most revered religious sites, the results of intensive individual research projects. They range from a Central American pyramid to Stonehenge in Britain to a remarkable figure of the Hindu elephant god Ganesh to the Islamic Ka'ba to a Chinese Daoist temple to a nondenominational chapel where 14 of Mark Rothko's black-painted canvases help create a fruitful silence--and more.
The more visitors learned, the more amazing it seemed. For instance, Schuyler Klein's scale model of the 1768 Buckingham Meeting House, still used by Quakers today, was truly to proportion, down to the smallest pieces. Sara Beth Hamberlin's knowledge of voodoo (her spelling; some prefer vodoun) came partly from studying drumming with a voodoo drummer.
One crowd favorite was Liam Mulqueen's cartoon timeline of religious history. Those without a sense of humor about religion should skip it, a sign said, but few did. "Don't worry, he'll be back in three days." Robert Frost wrote a short poem about such things: "Oh Lord, forgive my little jokes on Thee,/ And I'll forgive Thy great big one on me."
It's an educational exhibition, not only in the sense of having come out of education, but also in the way it can add to any viewer's range of knowledge and perhaps wisdom as well. You like old wooden barns and covered bridges, but do you know what a Norse stave church is? Humanity's population problems seem more understandable after seeing that some of the earliest religious artifacts discovered have been fertility figures (some re-created by Viscaya Du Mond Wagner).
"Religion is alive all around us, whether we are devout or practice or not," says Birdsey. "The same questions that animate religious thought are alive in these students. What is my place in the universe? Where am I going? What is the right way to live? What do I draw on when I am troubled? They want to, they need to, talk about these questions." If you come to the Sheldon to see with someone else, be prepared to have some of those discussions, too.
The Sheldon is open Tuesday-Saturday, 10 a.m.-5 p.m. Call 388-2117.
---