Main Sections
Front Page
Sports
Valley Vitals
It's in the Stars
Starwise
Archives
Links
About The Voice
Contact Us
Shafer's Deli & Market Adds New Features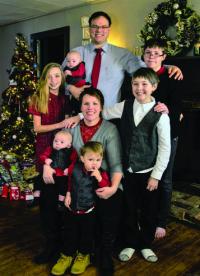 photo by provided
Tuesday March 20, 2018
By Cookie Steponaitis
It is often said when you want to get something done ask a busy person and that is the case when meeting with Shafer's Deli owners Adam Shafer and Jennifer Stocker. On site at Shafer's Market located at 54 College Street in Middlebury, the Shafer family are the fifth owners of a building having roots dating back over sixty-five years in Middlebury history and memory. Originally known as Lyons Place, the site has always had great food, ice cream, a fun atmosphere and been the gathering point of locals for generations. Adam Shafer and his family became the new owners on June 1, 2017 and are setting up shop for the long term completing Adams' dream of being a business owner in his home town.
Adam Shafer was raised in Middlebury and learned his craft of food at a young age and never lost touch with his passion for people, food and business. His grandparents operated the Lemon Fair Restaurant and owned a County Store in Wardsboro, Vermont with the first self-serve liquor agency and beer cave in the state and specialized in selling everything from soup to nuts. In this busy and people-oriented atmosphere, Shafer learned the fundamentals of working with local people. The store and restaurant were more than a place to get something to eat; they were gathering points, places to stop in or to set up celebrations. They offered items people needed and kept hours that met the needs of the people. Most importantly, they were run by family who treated each customer like they were extended family. Working himself for years a retail foods operations specialist at Middlebury College, Shafer knows food from whether you want a sandwich or to feed a hundred or more.
Staffing the store is also a family affair and you can expect to meet sons Colby (15), Logan (14), Abel (2.5), twins Ezra and Elijah (7 months) and daughter Abigayle (12). In addition to the wonderful deli and specialty meats and cheeses, Shafer's has expanded the use of the pizza oven and offers an incredible spectrum of mouthwatering pizzas made with many fresh and homemade ingredients while you wait. "We use nothing frozen," explained Jennifer Stocker. "Our brisket, pork, sausage, sauces and soups are all made here and were created to meet the tastes of a whole range of people." Knowing the importance of giving back to the community the couple started in February 2018 with a special Fire House Steak Meal. "For every one ordered we donate money to a local fire department," shared the couple. "In March the recipient is the Bridport Fire Department and in April it will be New Haven Fire Department."
Tuned into the needs of a family or people who want tasty food at all different times, Shafer's has hours that are for the busy family. Sunday- Wednesday the Deli, store and ice-cream counter is open 7:00 am- 10:00 p.m. and the kitchen closes at 9:00 p.m. Thursday-Saturday the Deli, store and ice-cream counter are open 7:00 a.m.-11:00 p.m. and the kitchen closes at 10:00 p.m. With seven days week availability, the couple went one step farther to add delivery service in a five-mile radius and the ability to order on-line. "We sell ice-cream and creemees year-round," grinned Jennifer Stocker. "We believe there is never a time that is not an ice-cream time and people come in all hours of the day wanting a touch of something sweet. This summer we are also expanding our offerings to include sixteen new flavors of ice-cream and will have a variety of yummy toppings."
So, no matter if you are looking for turkey, ham, roast beef, salami or deli meats and cheeses, homemade pizzas, a host of custom salads, homemade soups or to pick up soda, beer or ice-cream, Shafer's Deli & Market is there for you and open seven days a week. "Come in and watch our family grow," said Adam and Jennifer with a grin. "We have them from age's sixteen years -seven months and we plan to have all of them working in the family business as they grow." Even more importantly, come in and try the food. Adam is an incredible chef and loves to experiment with tastes and creates some incredible soups and sandwiches. On the menu this day was a Sweet & Sour Cabbage Soup, a Hungarian Mushroom soup and even one of the specialty grilled cheese sandwich. The incredible taste of these sandwiches was brought to the Valley Voice's attention by a member of Foster Motors staff who is known for speaking his mind about his food and he remarked, "It was the best grilled cheese I have eaten in my life."
Rooted in family, love of people, food and fun, Shafer's Deli is on the same site as has been a deli for the past sixty-five years. Come in and meet Adam Shafer and Jennifer Stocker and the family and see why homemade the is still the best way to go and also find a place where you are welcomed as family and treated as treasured friends. Browse their menu on the web at shafersdeli.com or give them a call at (802) 388-6408.
---
Advertisements
Search our Archives