Main Sections
Front Page
Sports
Valley Vitals
It's in the Stars
Starwise
Archives
Links
About The Voice
Contact Us
Middlebury Welcomes Rough Cut To The Middlebury Eatery Scene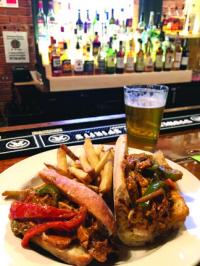 photo by provided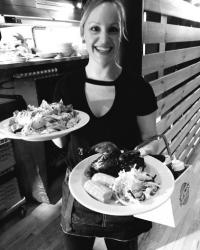 photo by provided
Tuesday March 13, 2018
By Cookie Steponaitis
What happens when a carpenter, a waitress, and a theater owner armed with a passion for great food and family fun walk into a bar together? Dreams become realities and Middlebury gains a new and extremely intriguing place to dine. Partners Sean Flynn, Ben Wells and Sara Giard are no strangers to hard work and creating a place that invites people in. Determined to create an atmosphere that is as fun as the menu is authentic, Rough Cut offers a new mixture to the culinary scene and invites all ages to come in and see what the hubbub is about.
Sara Giard grew up around restaurants as her parents owned CJ's in Bridport for sixteen years. Studying Culinary Arts and Restaurant Management at Paul Smith's College, Giard has been involved with restaurants of different sizes and types since. Partner Ben Wells has a similar story to share having worked in restaurants in Colorado, Boston and as the owner in Middlebury of the Middlebury Marquis and Southwest Café. Sean Flynn comes with the most unique story to share because his skill set is in construction and managing large projects and crews of people. Co-owner of Silver Maple Construction, Flynn used to drop in to The Bobcat where Giard worked and his crew did several small renovations to the theater. While fate brought the three together, it took several years and an opening in the downtown of Middlebury for Rough Cut to be born. "We knew we wanted Rough Cut to be unlike anything Middlebury has seen before and to my knowledge, there has never been a BBQ place in Middlebury," shared Giard. "We also wanted it to be fun. The Mechanical Bull was my husband Jesse's idea. Ferdinand the mechanical bull became a unique feature but the heart of Rough Cut is the menu."
Inspired by the desire to present truly authentic American Barbecue to Middlebury at reasonable prices menu offerings at Rough Cut are made from scratch, smoked in-house and simply qualify as down-home cooking kinds of food. Head Chef Nathan Davis's family hails from Louisiana and he was raised on BBQ and Southern cooking. Every sauce, rub and all meats are smoked in- house. With the vibrant art and music community of Middlebury it should come as no surprise the restaurant is dipping their toes into the live music pool. "I am very fortunate to call local musician Kelly Ravin a good friend and he plays every Sunday evening from 5-p.m," grinned Giard. "He's wonderful. The Horse Traders put on a wonderful show for us last week and we have some exciting programming coming up in the spring. We are going slow on the music though. We really want to give the food and the great atmosphere a chance to shine."
Open Wednesday-Sunday dinner is served from 4:00-9:00 p.m. and the bar is open from 4:00 p.m. to closing. Any questions or comments can be sent to info@roughcutbbq.com. The restaurant does not take reservations unless it is for parties over ten people, but they do offer private rentals for events. If you are out and about in downtown Middlebury, please stop in and meet Sean, Sara and Ben or even take a spin on Ferdinand the Bull. Rumor has it that the Smoked Brisket melts in your mouth and if you have never tried serious BBQ or are a BBQ lover you will be elated and be in seventh heaven. Come on down to 53 Main Street in Middlebury and remember hours are Wednesday and Sunday 4:00-9:00 p.m. and Thursday, Friday and Saturday night 4:00 p.m. to closing. While the meat is simply to die for, this reporter suggests you try the Rough Cut Smoked Brisket Chili topped with Citizen Cider infused Cabot cheddar cheese sauce or a fried dill pickle with Parmesan peppercorn sauce. One thing is for sure, you will enjoy your meal and you may get y'all on with Southern comfort food that lingers on the taste buds long after the last morsel has passed your lips. Or perhaps take a ride on Ferdinand and let go of a hearty shout!
---
Advertisements
Search our Archives