Main Sections
Front Page
Sports
Valley Vitals
It's in the Stars
Starwise
Archives
Links
About The Voice
Contact Us
Local School Leader Heads Overseas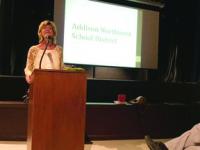 photo by provided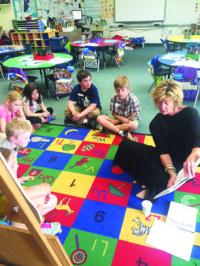 photo by provided
Tuesday March 13, 2018
By Cookie Steponaitis
When JoAn Canning went into education twenty-seven years ago she started with a passion to teach and made a promise to herself. "I promised that I would be open to moving anywhere to teach," shared the ANWSD Superintendent. "I filled out applications from all over the country."
Prompted by the advice of a friend, Canning attended a job fair in New York City where recruiters were seeking teachers for the United States Virgin Islands. Canning was hired on the spot and began her career in education with a move and third-grade position in the Virgin Islands. Living and growing up in New Jersey, Canning found the move one of great adventure and stayed there for six years. After marrying, Canning and her husband came to Vermont for a job he was offered and both felt it would be a great place to raise children and live.
Canning had been on the lookout for unique and groundbreaking positions and answered an ad from Educational Weekly for positions in Kuwait and the United Arab Emirates about eight years ago. In the midst of a lengthy recruitment and interview process, Canning was offered the Superintendent of Schools position for a district in the Northeast Kingdom and thoughts of the Middle East were put aside but not forgotten. When Canning returned to ANSWD four years ago she came full circle to lead one of the districts that had been a place of work for her during her early years in Vermont and all seemed set for the future.
Out of the blue in January 2018 the recruiter from Kuwait reached out to Canning. "He said he held on to my resume because it was an interesting one and that he was drawn to contact me albeit many years later," shared Canning. "I had two interviews with the recruiter and a small committee from Kuwait. At the last interview they invited me to visit the school and the country so I flew to Kuwait during February vacation."
While historically that region of the world is known for not allowing women the same freedoms as men, Canning did her homework and found that the trends are changing and women are being offered positions outside the traditional realm. Case in point, JoAn Canning herself. When she arrives in Kuwait to take on the position of Superintendent of Schools at the Universal American School, she will be the first woman to hold that position.
Assuming her new role and moving halfway around the world at the close of this school year, Canning has set three personal goals for herself. "I want to learn more about the Middle East, the language, the struggles, the religions, the cultures and people," shared the educator with a huge smile. "I also want to take advantage of being in this part of the world and to travel to as many new countries as I can. Lastly, but not least, I want to build a strong relationship with students, staff and families and assess ways in which I can have a positive impact on student learning."
While Canning admits she will miss Vermont and all the people here, she holds to the promise she made at the beginning of her career to never let a chance to grow and learn pass her by because of geography. "I want to thank the School Board for allowing me the opportunity to serve the five towns in the ANWSD and the students and staff in our schools. We have come a long way in four years and I wish you well going forward." While Canning is pretty matter of fact about her new venture and role, this particular writer believes she hears a tinkling of glass as another glass ceiling breaks and a leader is chosen because of the skill set and not gender. Congratulations Ms. Canning and Universal American School you are lucky!
---
Advertisements
Search our Archives