Main Sections
Front Page
Sports
Valley Vitals
It's in the Stars
Starwise
Archives
Links
About The Voice
Contact Us
Local Leads Projects With Nourish International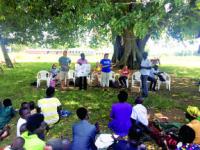 photo by provided

Jared Birchmore, standing alongside a fellow Nourish International - Syracuse student and GHNU staff, while teaching health and sanitation practices at a health clinic.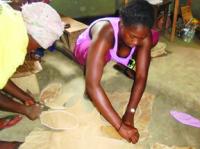 photo by provided

A Nourish International - Syracuse University student making templates for reusable sanitary pads alongside a member of Apit Pe Nino - a women's group in the Oyam District - 2016.
Tuesday March 6, 2018
By Cookie Steponaitis
Jared Birchmore grew up in Addison County, Vermont in a family and culture steeped in community service. Birchmore was active as a teen in his school and community and had his first encounter with Nourish International and their outreach work while attending Syracuse University. The encounter changed Birchmore's life and began an annual program drive that continues to grow in size and scope.
"I was fortunate enough to be an intern with Nourish International's partner organization the Global Health Network Uganda (GHNU)" shared Birchmore. "Traveling to Uganda allowed me to see the benefits that came from the projects we participated in revolving around improving child and maternal health in the Oyam District of Uganda. While I was interning in Uganda we conducted health education sessions with school children and community members, in addition to creating a facility for a women's group to create reusable sanitary pads. These pads are essential for young girls to stay enrolled in school, as nearly 25% of students drop out when they begin menstruation. It boggles the mind that feminine products are directly related to the 25% dropout rate of Ugandan girls upon reaching menstruation age but the reality is impacting generations in that nation. This year we will be returning to this issue area, with our efforts centering around the need to disseminate understanding and acceptance of menstruation and good personal hygiene. These efforts will be achieved through construction of changing facilities and washing stations so that menstruation and poor health will no longer result in students dropping out. Additionally, GHNU, with the funds provided by the Syracuse chapter plans to support the creation of school health clubs and the training of teachers, students, and community members in and around fourteen schools within the District."
As President at Nourish International - Syracuse University, Birchmore and his group, alongside GHNU, have set an ambitious goal for providing sanitary pads, facilities, and additional resources for the immediate need of these school children and conducting health education sessions around healthy practices in the community.
Donations can be made through their crowdrise page which can be found online at www.crowdrise.com/o/en/camp
aign/syracuse-university-giving-challenge-2018, or searching Nourish International Giving Challenge on the crowdrise site and selecting the Syracuse University page. All funds are sent to the Global Health Network Uganda through a secure money transfer and the staff on the ground in Uganda uses the money to support these programs. "Any interested parties with any questions at all about what Nourish International is or about the projects we are supporting, feel free to reach out: Jared Birchmore (jcbirchm@syr.edu)"
Growing up in the Champlain Valley Jared Birchmore learned that change happens when people come together to serve a need greater than themselves. Through his work with Nourish International Birchmore continues that lesson and welcomes all who would like to donate or learn more to reach out.

---
Advertisements
Search our Archives