Main Sections
Front Page
Sports
Valley Vitals
It's in the Stars
Starwise
Archives
Links
About The Voice
Contact Us
Sharing Stories Of Growing Up Champlain Valley Style With Brenda Tierney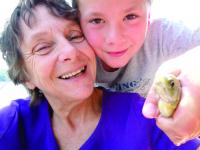 photo by provided

Brenda Tierney and her grandson love fishing in Monkton Pond and just being out of doors. So many memories and so many more to create, spending time together in this place we call home.
Tuesday March 6, 2018
By Cookie Steponaitis
Brenda Tierney was born and raised in East Monkton, Vermont but has Vermont in her veins and heart. While today Tierney hails from the Sunshine State, she has the gift of being a storyteller and a way of sharing with generations the unique aspects of growing up Champlain Valley style. When trying to explain the Champlain Valley to others, Tierney often uses stories from her past to help illustrate a lifestyle that is part love of the land, hard work, pure chance and steeped in traditions. Through her words which are often posted on the Facebook site Growing Up in Addison County, Tierney takes us into her life and at the same time celebrates experiences we can relate to, cherish and even chuckle with.
Experiences with the wildlife of the endless tracts of forests are a part of many Champlain Valley story telling sessions. Brenda Tierney could simply title this experience, 'Moose'. "One day in the late 1950s, my cousin Maurice and I walked up on the mountain, up to where my family's gravity fed spring was," explained Tierney. "We found a crabapple tree that was ripe for the picking in that hot late summer. We climbed the tree, picked off some apples and as crab apples will go, some were good, some were not. What you do with a crab apple if you are sitting in the tree? The answer is simple, you eat around the bad spots. We were just sitting up there kind of swaying in limbs that we had crawled out upon. Along came a moose. The only moose we had seen before was on Captain Kangaroo. But we were pretty sure it was a moose. She started eating the drops that had fallen from the tree. Maurice got brave enough to actually offer her an apple and she took it from him more gently than I would have thought. Being eight years old, and not knowing if a moose was an animal that could eat you or not, we spent quite a lot of time up in the tree. We discussed our safety, a lot."
Tierney paused a moment and continued, "We stuffed out pockets and shirts with crab apples and climbed down. So far so good. The moose didn't seem to want to eat us. We walked back to our farm, with the moose following us. Every so often, we'd toss out some crab apples. We liked to keep a good distance ahead of the moose. The apples slowed her down as she ate them. She took up residence in our morning pasture where Dad let the cows out after morning milking. People from all over Addison County came and lined the roads with their cars so they could see the moose. What I could not believe was her voice. She was a young female but she had a blat like a baby Holstein. After a while people lost interest in her or maybe, she lost interest in us. She went away. During deer hunting season that fall, they found her dead. Shot dead behind Bristol Pond. Not I guess for moose meat or for anything, except they wanted to shoot a moose. I was really sad about that. She came, she was rare, she blessed us with her presence and did no one any harm. Whoever killed her didn't even do it to live on the meat, they just wanted to shoot a moose I guess."
As spring temperatures have blessed the valley this past week a barrage of people have been out armed with rakes, dirt and some even carrying around seed packets with a longing look in their eyes. These in between seasons are notoriously known in the Champlain Valley to be tricky. While plants may stick their heads up to check out the weather, the calendar barely has squeaked the page over to March and Mother Nature has a long-standing reputation of showing her skill with March snows even into the last week in the month. The time between seasons is both beautiful and challenging as nature responds with the hope of new growth and people embrace the warmer temperatures, while the old timers simply chuckle and make sure the woodpile has enough to go another round.
Brenda Tierney captures this 'wait and see' game in one of her stories about growing up Addison County style. Tierney shared, "Sometimes after supper after the cows and the kids had all been fed; especially in that time between spring and summer, our whole family would sit outside on the hatchway that went down cellar. It was just a pair of double doors and if you opened them up there were steps leading down into the cellar. But when closed it made a great place for sitting. Dad liked it because he seemed to be able to judge if next day would be for planting or not. I don't know how he knew, but he knew. Mom liked it because supper was over and dishes were done and it was peaceful. Us kids liked it because it meant we didn't have to go to bed yet. Grandma Pearl liked it because we might see a shooting star. And when we DID see one she would say 'a witch is dead!' Dad would say, 'I'll bale her up in the hay and feed her to the cows!' We did have this one mean cow. We had this cow we called 'Bucky' because she would bunt you or kick you even in the stall She was mean. We figured she was the one that dad fed the dead witches to that he baled up that fell out of shooting stars. Even in the pasture she would chase us down, knock us down or try to trample us. She was only half the size of what a full-grown Holstein would usually be expected to be. None of us kids liked her. But she gave about twice as much milk as could be expected of a cow her size. So, Dad kept her. The black and white pattern on a Holstein? She only had BLUE and white. I don't know how many times I tried to make friends with her. It never worked. But Grandma Pearl could walk right up to her and feed her grain out of her hand. Not even DAD or my GRANDFATHER could do that. She kicked the milking machines off when they were milking. Sometimes Grandma had to go to the barn and just pet her while they were milking. She was the only one who could do it. I could stand right beside Grandma and offer some hay or grain and she would only take if from Grandma. I never figured out her secret."
When she pauses to think of her upbringing, Tierney always comes back to her understanding of family, work and the land. It was all around her and there to support the family and was a never-ending wonderland to explore. Tierney remarked, "I think every story I write, whether it's about times in a one room school house, or on our farm, are memories from a young Vermont Farm girl. I grew up in East Monkton, Vermont. My father and grandfather ran a dairy farm together with very little help. Sometimes they would hire a hand during haying season. They also took in young boys from the Weeks School in Vergennes who roomed and boarded with us in our farm house. Some worked out. Some didn't. My two brothers both suffered from severe allergies, asthma and hay fever, so it was obvious that they were not going to inherit the farm. It was sold, and we moved to Bristol when I was 16. My stories are told so that people won't forget a simpler time in life. I can't pick out any one story that is more meaningful than the other. Things HAVE changed. Instead of cows going out to pasture at night, we have corporate farms where, in my opinion, the cows are treated like milk producing machines. Our cows grazed at night.... they were milked twice a day. At best, my father milked forty head, morning and night and there were always the heifers waiting to be bred. Most of our cows had names. Neither I or my siblings learned to ski. Farming was 24/7 and it meant hard work. There was no money or time to learn to ski, or even to swim. My father could not swim. Weekends were just like any other day of the week, interrupted by Church. We didn't go to " summer camps". Our farm WAS the summer camp. I don't regret that in any way. We had 400 acres of our own on which to run free, plus the three miles of neighboring farms. No parents had to watch us every minute. We were shooed out of the house in the morning and the only danger was if you came back too soon and walked on our Mom's newly mopped floors. No one organized our games. We played in the woods and the fields and in the orchards. With no supervision. I feel sorry for the kids of today. They will never know the freedom that we had. I write, to remind those who can remember and for my grandchildren, nieces and nephews who are too young to remember.
The Valley Voice salutes Brenda Tierney for her memory for detail and ability to capture in words what it means to grow up Addison County style. Anyone wanting to read more should check out the Growing Up in Addison County Facebook site and see images, stories and glimpses of the Champlain Valley past and present which is there to read, enjoy and reminisce with. What stories do you have to add and what stories will generations yet to be born add to the fabric of life in a small and special place we all call home?
---
Advertisements
Search our Archives