Main Sections
Front Page
Sports
Valley Vitals
It's in the Stars
Starwise
Archives
Links
About The Voice
Contact Us
Sharing Memories With Steve And Kathy Brooks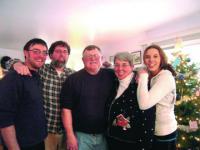 photo by provided

A Family Christmas .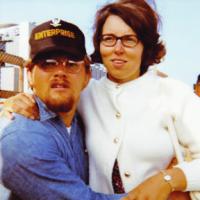 photo by provided

Kathy and Steve Sept. 1972.



photo by provided

Wedding day 1973.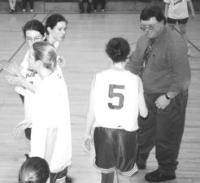 photo by provided

Coaching JV girls mid 80's.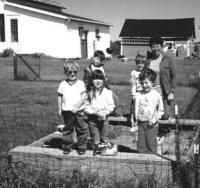 photo by provided

Kathy's daycare early 1980's.
Tuesday February 13, 2018
By Cookie Steponaitis
Steve Brooks was born and raised in Addison County and grew up with his siblings at the family home on Basin Harbor Road. After graduating from VUHS in 1968, Brooks enlisted in the United States Navy following a family tradition that included a lot of uncles in military service. After attending basic training at Great Lakes Naval Station in Michigan and Radar School, Brooks boarded his assigned ship, the nuclear aircraft carrier USS Enterprise in Norfolk, Virginia. Seventy percent of the crew was green and had spent months in dry dock for major repairs of damages caused by a fire aboard ship while in Hawaii. The ship was sent out to complete sea trails on a voyage fraught with possible danger from the inception. This was further reinforced by Psychic Jeanne Dixon's prophecy that the Enterprise would meet its demise in the Bermuda Triangle. The assignment took them through the Bermuda Triangle, through Cape Horn and on to Alameda, California to his home base of operations. While in the Bermuda Triangle area, Brooks remembers clearly the horror of seeing the catapults fail and the first three planes taking off from the deck being lost and the pilots killed, making Jeanne Dixon's predictions hit home. Assigned as lookout for one particularly harrowing shift, Brooks watched 60' waves come over the bow of the ship and heard the ship and the two destroyers sent as an escort shudder under the stress the ocean placed on the hulls. Brooks had a sense of thanks and excitement when crossing under the Golden Gate Bridge and arriving into California waters. The future was ahead of him and it looked to be even more of an adventure. Brooks lifelong adventure came in 1972 when he and several of his shipmates were invited to a party off base. Standing off to the side were several friends of the host and one seemed to have picked him out of the crowd. Within three months the pair was engaged and upon his return from a nine-month tour in Vietnam, Brooks was happily married.
Staring at him from across the room that eventful day in February 1972 was New York born and California raised Kathy Wrona. "It pretty much was love at first sight," grinned Kathy Wrona Brooks. "I picked him out of the crowd and then spent the rest of the party talking to him and getting to know him. He was away at war from September 1972-May 1973 and we were married when he returned in June of 1973." At the time when America was embroiled in protests, conflicts and a war, Kathy Brooks grew up in Southern California just outside the fray of protest. "I went to Holy Names University in Oakland, right next door to Berkeley, and I could look across the bay to Haight Ashbury, both hotbeds of unrest and protest. I had moved to California when I was nine and had gone to Catholic schools and graduated college there while staying out of the growing unrest. I had clear goals and knew what I wanted for my future. Some of my college friends went to law school, which was really a new career concept for women at the time, but I was headed on a more traditional path. I wanted a family and to be involved with children. I guess you could say a more traditional path."
While on the surface it might seem that the Brooks' were a traditional couple, there was nothing traditional about their courtship. Due to the times and pending deployment of Steve's ship, the couple spent their dates talking and planning. They got to know each other and talked about the deeper issues of life including beliefs on family, work ethics and plans and found in each other more than a person to love. "We based our plans for marriage on the foundation we shared," explained Steve. "That and a lot of letters."
In a modern age where most people can instantly contact loved ones and visually see them through Facetime or Skype, the Brooks' were engaged before Steve deployed and communicated for the nine months of his tour in Vietnam daily by letters. A deep thinker and one who wanted to share what he was experiencing with his fiancée at home, Steve wrote flowing love poems and powerful expressions of a war in a land so far away, frustration about how the fights were carried out and the futility of some of the encounters. "I was inspired to write as I was deeply moved by Gary Hill's sacrifice for his Country. Gary was two years ahead of me at VUHS," shared Brooks. "Gary wrote a poem which he sent home, and made the local papers, that basically predicted his death but shared his commitment to serve his country. When my son and daughter-in-law were in Washington, D.C. they found his name on the Vietnam Wall and made a rendering of his name to bring home. While I grappled intensely with why we were there, I was dedicated to my job and my service." Kathy responded by providing letters on a daily basis which were the bright spot for Steve when he was able to get them. Working and planning the wedding while Steve was overseas, Kathy and a large family had the wedding planned down to the last detail. "I married her because of her passion for life and for her Rigatoni," chuckled Steve Brooks. "On one of our dates we went to her home and she cooked Rigatoni. I thought at that moment, all that and she is a phenomenal cook too. I'm in."
With Steve promising to give the California lifestyle a chance, the young couple settled in Fullerton, California and Steve took a job working for a rubber manufacturer. Riding his 10-speed bike to work daily Brooks was staggered by the pollution and massive sea of people. He lasted almost a year and shared with Kathy that he could not see raising a family in that environment and the pair packed up what they owned and drove cross-country in a Vega station wagon. Stopping along the route, Steve got introduced to Kathy's other family members in Pennsylvania and New York who could not attend the California wedding. "It was like walking into long standing family membership," shared Steve. "I was instantly embraced as the newest member of a very close and tightknit family."
After living briefly in Maine the couple arrived in the Champlain Valley just ahead of a particularly cold winter in November 1974. Settling in on West Street Steve returned to the scene of his first job at Simmonds Precision. In 1974 Simmonds had 327 employees and Steve was related to 35 of them. The family grew to include son Josh (1975), Jeremy (1978) and Marijean (1979). Upon the arrival of her second and third children, Kathy opened a home daycare that became known for the teaching that happened there. Famed for her book circles, art activities, nature and science lessons and hands-on opportunities involving farm animals and gardens, people all over the county waited with anticipation for an opening at Brooks Daycare. In fact the couple credits their own children's involvement with civic engagement and careers focused on family and children because of the environment they grew up in.
"My daycare children were like extended family," shared Kathy Brooks. Add to that the twenty-five years of athletes that passed through Steve's coaching of local teams in Little League, Soccer, Baseball and Basketball, and the Brooks children grew up immersed in community. "I actually coached right out of high school and before I left for Vietnam," shared Steve. "I took over a Little League Team for Ken Bannister in 1968 and then had to leave for war in '69. When we came back to town, Ann Sullivan hired me as the Freshman Boys Baseball Coach at VUHS and over the next two decades I coached Elementary School Soccer, Little League, Middle School Softball, Freshman Basketball, JV Basketball and Varsity Basketball. It was always satisfying to see the younger students so passionate about playing and wanting to learn with enjoyment."
Even with the incredible amount of community involvement and the one hundred or so children who passed through Kathy's unique child care school, the foundation of the Brooks' marriage and actions has always been about family. The couple has been married forty-five years with three children and nine grandchildren and still highly value the unique courtship and foundation of their marriage. With Valentine's Day just around the corner it seemed only fitting to ask them to share some pointers. "I tell my grandchildren to find yourself first," shared Kathy. "It that means you are single until you are thirty or whatever age that's important. Knowing who you are first and going into any relationship with a sense of humor is key to making it work." Husband Steve nodded and added, "Being honest, being patient and focusing on communicating your goals and feelings is very important. We had a great deal in common and loved gardening together and building a life with our children. Even now, I have a hauling business and she comes with me to share the time together." "I'm the navigator," interjected Kathy and the couple shared a quick grin. While their home shows the labors of working together all these years, the most prized possessions include framed photos of family and grandchildren, projects and pieces made by their children at earlier ages and the book of poetry that was handwritten and carefully published by Kathy. It contains every poem Steve sent her during their unique courtship and since their marriage.
Turning through the pages, this reporter came across a piece with the hopeful title "Some Day" written long ago in that time of great upheaval from a young man to his beloved soon to be his bride.
With pen in hand, mind on you.
Passing of lonely hours makes me blue.
Drifting mind of faraway places
But still putting up with life's paces.
I write the words from my heart
Usually sad for we are apart.
But contented just knowing you care and someday I'll be there.
I find the strength to go on each day and the nightmare a dream that will fade away.
And one day, the sun will rise in my sky and you will be there in front of my eyes.
No longer alone. I'll try to stand.
But together we'll walk hand in hand. (Steve Brooks- 1969.

Happy Valentine's Day from the Valley Voice to your family and no matter where you are may your heart find a partner to share the journey ahead.
---
Advertisements
Search our Archives