Main Sections
Front Page
Sports
Valley Vitals
It's in the Stars
Starwise
Archives
Links
About The Voice
Contact Us
Local Chapter Of The DAR Programs Support Veterans & Children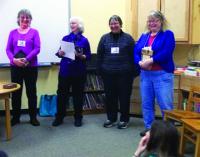 photo by provided

Local DAR members share a smile and some stories as they donate books to a local elementary school library.




photo by provided

The members of the DAR local chapter are involved in many different projects benefiting service members, veterans, children and elderly. Shown here are some of their projects including the dedication of a Veteran's Bench, Donations for the John Graham Shelter and the SWFT service day.
Tuesday February 13, 2018
By Cookie Steponaitis
Founded in 1890 in Washington, D.C., the Daughters of the American Revolution is a non-profit, non-political volunteer women's service organization that is dedicated to promoting patriotism, preserving American history, and securing America's future through better education for children. Known best to most Vermonters for their work with the John Strong Mansion Museum in Addison, Vermont, the DAR volunteers are in more places and in more programs, that most even realize. The local Seth Warner- Rhoda Farrand chapter is comprised of approximately 38 members that serves veterans, children, and the elderly. The chapter is openly looking to share their programs, ideas and mission with local people who might like to help.
Known as one of the most inclusive and active genealogical societies in America, there are 185,000 members in 3,000 chapters across the world. Women age eighteen or older are able to apply for membership if they can prove lineal descent from a patriot in the American Revolution. For those who can't trace their family back that far or simply want to help, meeting up with this fun group will soon be possible. On Saturday, March 10 at 9:30 am at the Vergennes Union High School library, the DAR chapter will be meeting where people can join and to honor the local youth winners of their history writing contests and recipient of the DAR Good Citizen Award.
Passionate about educating the youth of America and contributing to schools and students in a myriad of ways, the DAR supports six national schools through donation of money as well as personal time. The group provides scholarships and awards for students throughout the country and offers active programs including DAR Good Citizen and Junior American Citizens. There are annual writing contests for youth in grades 5-8 and 9-12 and educational and summer camps at the DAR museum. Volunteering at the local Boys & Girls Club and through school events, the local volunteers help mentor students in history projects and offer hands on learning workshops to spark interest in local and family history. Their annual awards of the Good Citizen Award is a part of the fabric of many local schools.
In service to veterans, the local DAR chapter serves in small and large ways. They have raised funds and have established Korean and Vietnam War Memorial benches at MacDonough Park in Vergennes, provide lunch and gatherings for local veterans and, nationally, have contributed over 200,000 hours of volunteer work to veteran hospitals and retirement homes. The group never lets a holiday go by without veterans and troops overseas being remembered and thanked.
"We always have a booth at Vergennes Day and all profits go toward our Veterans' Fund," explained DAR member Joy Minns. "We also spend a day at the Williston North Rest Area where we raise money for Veterans. All items are by donation only. Flying Pig donates books to us which we then donate at Vergennes Day, to the Boys and Girls Club, and to COTS Many of our group work as tour guides at the John Strong Mansion and we take care of the gardens and grounds there, along with members throughout the state. A current project is sifting through some of Samuel Strong's papers. The State DAR hopes to get a grant to help conserve some of these important historic documents."
Helping people is a huge part of the DAR's mission and each new member to the group brings ideas and passions. This past year the Addison County based chapter funded the trip of a local World War II veteran to Washington DC for tours of the war memorials, Arlington National Cemetery and special recognition. Known as Honor Flights, the Honor Flight Network is a non-profit designed to honor America's veterans for all their sacrifices. They transport them to Washington, D.C. and help bring them to visit and reflect at sacred spots. Currently working to honor the World War II generation that is passing away at a rate of literally one thousand a day, Honor Flight is in 45 states. Since 2005 the group has brought 6727 WWII veterans, 8,453 Korean veterans, 5,119 Vietnam veterans, and 259 other veterans to thank them for their sacrifice. The DAR is delighted to assist in this project and works with Honor Flight and many other Veteran organizations to better the lives of those whose service gave us freedom.
If you can't attend the March 10th meeting, feel free to reach out to local chapter regent Ellen Pratt. People are encouraged to meet the group and have a conversation that can go in many different directions. The Daughters of the American Revolution have been a part of this county for generations and they are looking for new ideas, new members and to share the wealth of opportunities they have with other caring individuals. Rooted in the traditions of the nation's beginnings, the Daughters of the American Revolution are more than a gateway to learning family history. They are a part of a network of people devoted to making the lives of everyone better, one project at a time!
---
Advertisements
Search our Archives