http://www.vvoice.org/?module=displaystory&story_id=3958&format=html
Boys & Girls Club New Programs Entice And Excite
By Cookie Steponaitis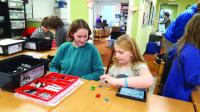 photo by provided

Laura Boelens and Kira Emmons.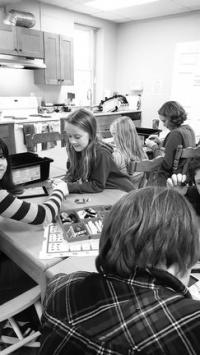 photo by provided

Hannah Botala.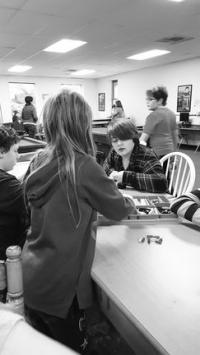 photo by provided

Cora Martin.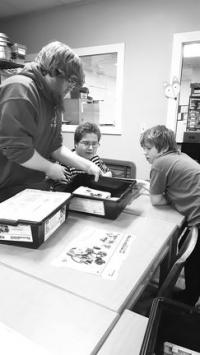 photo by provided

Jason Clark, Payton Whitehouse and Spencer Adams.
While it is a coin toss as to whether Mother Nature's daily weather forecast will be cold and sunny, snowy and icy or include 60-degree temperature shifts in twenty-four hours, there are some things about winter that are solid and predictable. The programs available for young children and teenagers are in full swing and the hours after school are full of exciting and enticing programs.
The Boys & Girls Club was recently awarded a grant from the Ronald McDonald House which the Boys & Girls Club Executive Director used to purchase Next Generation Lego Mindstorms Kits known as EV3 models. The kits introduce the youth to robots and building creative moving machines while needing to learn coding to make them run using sensors that respond to the programming of the creator. Combining the best of beloved interactive video games with coding and creativity, these kits have been bringing in not only the regulars at the club but those curious and in love with science too.
Also funded through the generosity of the Elaine Raphael Arts Foundation, artist Norma Rollet is on hand for several weeks to give group and individual drawing lessons to all children at the club. "We have seen a jump in our numbers," explained Executive Director Strube. "Currently we are averaging twenty three students a day and with the food program served 400 meals this last month. We are excited to have Laura Boelens with us for twelve weeks and also many long-time volunteers stepping up to offer unique programs during the winter months."
The entire group is getting ready for the Bungle in the Jungle Fundraiser Event which is a blend of carnival, games and dancing co-sponsored by the Vergennes Partnership and the Vergennes Opera House that will occur on March 3rd. Attendees can plan on lots of fun, music, games and prizes and great food.
While the weather outside somedays is frightful, it is all about the youth, teens and the science of learning at the Vergennes Boys & Girls Club. Stop by to visit. Come for a meal or give a call to see how you can be a part of yet another place where the focus is on the kids and the goal is a brighter and more exciting future.
© Copyright The Valley Voice
< Back
Print