Main Sections
Front Page
Sports
Valley Vitals
It's in the Stars
Starwise
Archives
Links
About The Voice
Contact Us
Lost And Found Takes On New Meaning At Shacksbury Cider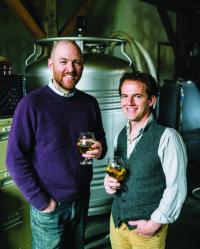 photo by provided

Colin Davis and David Dolginow founded Shacksbury in 2013 in Shoreham.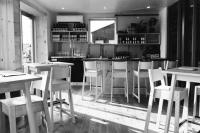 photo by provided

Shacksbury celebrated the grand opening of its tasting room in Vergennes in October.
Tuesday December 19, 2017
By Cookie Steponaitis
While most Americans will admit to thinking that it does matter what type of vine is used in making wine and what mixture of Hops is in their favorite beer, few can account for more than a color and taste and explain the saga of the apple. Historically, apples are far from common but have a diverse history. Apples have been a part of every holiday season and household in countless desserts and dishes. In reality, apples are one of the most diversified food plants on earth. Most types are grown and used for eating, but a few were created with making cider in mind
Enter into the picture Shacksbury Cider co-founders David Dolginow and Colin Davis. Not only apple enthusiasts, both men are also cider artisans and have a vision that cider can be varied and a part of more than just holiday gatherings. Setting out to create an offering of cider that were both bold and daring, the pair began a quest to utilize apples from some of the oldest orchards in New England and to graft those to some of the most ancient apples of Europe. Bringing together both apples from the past and blending them with some of the present, Shacksbury Cider will offer tastes that offer diversity and depth to the cider loving people of Vermont and America.
To do their research Dolginow and Davis sampled thousands of apples and made batches of cider from over 150 trees. Focusing in on what they call the Lost Apples of the past, the pair have grafted twelve different varieties as part of 1,000 trees planted on a local farm.
People curious to taste the different flavor combinations and possibilities are invited to stop in at the Tasting Center opened this past July at 11 Main Street in Vergennes. Open Wednesday-Saturday from 12:00-6:00 p.m. and Sunday from 12:00 p.m. to 4:00 p.m., visitors can sample different ciders and learn about the creation process behind each one. It is a new and enticing 0ffering for your holiday and office gatherings and will delight and surprise your taste buds. Co- founder David Dolginow expressed, "After more than four years of hunting for apples and making ciders, we're excited to have a tasting room open to visitors. We believe the Champlain Valley is one of the best places on earth to find and grow apples, and we love sharing our ciders with our neighbors here in Addison County."
While many will rave over Grandma's famed apple pie, Dolginow and Davis have created a version of the apple that is already earning rave reviews from food critics around the region. Their ciders have been featured in Food & Wine magazine as well as numerous other publications, and won a coveted Good Food Award. So, from the heart of the Champlain Valley comes yet another innovative approach to an age-old product. It blends the passion for quality and uniqueness that has long been associated with the made in Vermont label, and the vision of two men who looked into the lost and found of the apple world and came up winners.

---
Advertisements
Search our Archives