Main Sections
Front Page
Sports
Valley Vitals
It's in the Stars
Starwise
Archives
Links
About The Voice
Contact Us
Deck The Halls And While You Are At It The Concrete Truck Too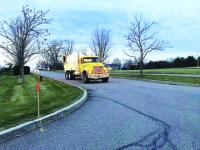 photo by bigail DuBois

Holiday Mixer on the road.
Tuesday December 19, 2017
By Cookie Steponaitis
Driving down a dark Vermont highway with snow cascading across your windshield is seen by some as idyllic and others as idiotic. While most Vermonters simply get out and go where the holiday needs take them, some stay at home and avoid people, crowds and lines by shopping from their home computers. Well not only are these people missing out on the holiday atmosphere, but they are missing out on a sight uniquely Vermont and the vision of SD Ireland co-owner Scott Ireland and his wife Kim. While she explains they just tell people its Christmas magic, it is in fact 25,000 Christmas lights placed with a lot of care and an immense amount of clear duct tape to three concrete mixers. These rolling tributes to the holiday season bring smiles and generations out to see them as they appear at holiday locations up and down the Champlain Valley.
This marks the thirteenth year that SD Ireland's rolling Christmas light shows have been seen everywhere from Grand Isle to Middlebury. The concept came to Scott Ireland while recovering from surgery twelve year ago and while the family still ponders if he was hallucinating at the time the concept has taken on a life of its own. While no one can put a guess to how many rolls of duct tape are on each truck, there is a bit of science and wonder in how they function. All the cords are strung on the drum and connected to a generator in the truck. The drum is turned on from inside the cab and the lights have the added visual of always being in motion. Coming over the hill on a dark winter evening, one of the Ireland decked out concrete trucks is a sight to behold and leaves adults speechless and little ones with a glow in their eyes long after the vehicle has passed from sight. 25,000 lights adorn each truck and for those of you counting your pennies, it is one heck of an electric bill.
For the Ireland family the holidays are a time of magic and wonder and if their rolling tribute to the season provides joy, then they are happy. "We are like all the little kids every year the first time we see this mixer, we are so excited," shares Kathy Ireland. The holidays are a time of joy and magic but they can also be a time of stress and sadness for some people. If these trucks can bring Christmas joy and a smile to someone's face who is having a tough time, it is worth it!" Vermonters wanting to see any of the three trucks on the road can check out the schedules online sdireland.com , sdicancerresearch.org or can simply hope to get a glimpse in passing on the highway. Either way, the result will be a quick intake of breath with something similar to, "Wow!" passing out your lips or maybe you are the more scientific in the group and will query, "How do they do that?" As far as the Ireland family is concerned, the answer is not in how the vehicles are made but that they bring joy. Happy Holidays in yet another creative Vermont way and may your season be bright with lights!
---
Advertisements
Search our Archives