Main Sections
Front Page
Sports
Valley Vitals
It's in the Stars
Starwise
Archives
Links
About The Voice
Contact Us
Strolling Downtown Middlebury And Holiday Magic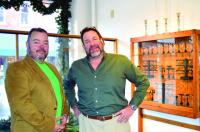 photo by Mike Cameron

John and Dave were greeting customers recently when the Voice stopped by. David, Sierra, Josh, Jeff, and Kathy will also be looking forward to welcoming customers during the holiday shopping season.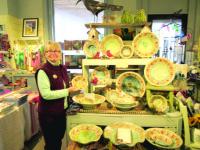 photo by Cheryl White

Janice at Sweet Cecily.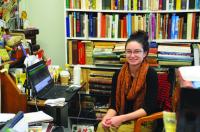 photo by Mike Cameron

Danya was on the job at Otter Creek Used Books this past week greeting customers and answering questions.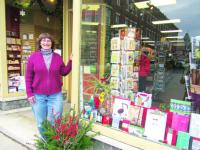 photo by Cheryl White

Paula at Main Street Stationary.
Tuesday December 5, 2017
By Cookie Steponaitis
There is a feeling in the air this time of year that puts a spring in your step and a smile in your heart. Whether you are out shopping for loved ones or simply strolling down the Main Street of Middlebury, there is a festive air that entices you to pause and look at all that life in the Champlain Valley has to offer.
Even though the thought of shopping in your nightgown with your computer mouse at the ready has appeal, nothing can replace the experience and wonderful products waiting for those whose take the holiday stroll. Priding themselves on offering you the finest jewelry and the best customer service around, Autumn Gold has been on the Main Street since 1998. Boasting a talented set of goldsmiths, you can have custom work done or even repair cherished pieces on the spot. With gold, silver and platinum pieces matched to gems in every color imaginable, there is something for everyone to see. With 45 years of experience in designing and creating fine jewelry the goldsmiths can help you design a custom piece or help you select from the line of jewelry offered in the store. So, come in and meet the staff that can help you with all of your jewelry needs, including appraisals and are the only laser welder in Addison County. Located at 61 Main Street, Autumn Gold is a wonderful place to browse, shop and learn!
No stroll down Main Street would be complete without a stop at 42 Main Street at Sweet Cecily's. Open Monday-Saturday 10am-5:30pm and Sundays 11am-5:00 pm, the store is a delightful and whimsical mixture of surprising treasures and an enticing old-fashioned back porch where you can step into the past and watch the river go by. Formerly an ice cream parlor for decades, the back porch holds a great deal of meaning to generations of locals. Sweet Cecily's opened in 1987 and continues to offer some of the coolest and artistic socks around as well as gifts ranging from mugs and offers that span countries and different cultures. Whether you are looking for wonderful Nancy Dunn cards or a gift for someone hard to buy for on your list, Sweet Cecily's will delight you and provide many wonderful choices.
Few stores conger up memories or bring people back to their childhood than the Ben Franklin Store located at 63 Main Street and open Monday-Friday 9:30-5:30 pm, and Saturday 9:30-5:00pm, Ben Franklin stores once dotted the Main Streets of America for decades. Sadly, now only a few remain, making the Middlebury Ben Franklin Store more than a piece of Americana, but a place to shop where the eye is on the crafts, toys, and a wonderful assortment of household items, sundries, seasonal products, health and beauty aids and fabrics can be found. Started on the business approach of "a penny saved is a penny earned," the stores are named after Benjamin Franklin. So, stop by and see for yourself and share a memory or two with those you bring along. The tinsel is shiny, the staff is friendly, and the store harkens back to a time when Christmas was made by those closest to your heart and not the latest and greatest fad of the season.
Just as unique and enticing a store is Main Street Stationary located at 40 Main Street in Middlebury and open Monday-Friday from 9:00 am-5:00 pm and 9:00- 5:00 on Saturday, the store is a wonderland of all kinds of paper, office supplies, ribbon, wrapping paper, art supplies and many ways to make your holidays unique and your own. Be ready to browse because there is a lot to see and thousands of ways to spruce up your holidays and gifts. Perhaps it is finding that perfect card, or creating a sight for the senses when you wrap. Either way, Main Street Stationary staff is friendly and very knowledgeable.
While technology has made the ways, we read and learn very different, there is something special and timeless about the perfect book. Cuddled up in a warm flannel or along with a cup of eggnog or coco, the right book can transport the reader into a magical place and time. It can entice, delight, scare, open pathways and become a catalyst for change in our lives. Whether it is a child, an adult, or a senior citizen, there are books for everyone and going to Otter Creek Used Books in the Marblework's is the best place to find it! Located at 99 Maple Street, Otter Creek Used books lets your dollar go farther and offers a little of everything out there to read. Open 10:00 am- 5:00 pm Monday – Saturday, be sure to stop in and get a book for those you love and one for yourself. The gift of reading a great book is timeless and the perfect gift for any season.
The snow is finally beginning to fall in the Champlain Valley and Middlebury is once again transforming to the quintessential town from a post card or Christmas song. While we are all "Dreaming of a White Christmas," the ingredients for that special day are still to be gathered. Stoll the town with your family and stop into the shops that grace our lives not just during the holiday seasons, but all year long. Thank the people who own those businesses by shopping local and let the holiday magic catch you. Smile bigger, skip along or perhaps even be caught in public singing a Christmas carol. Pick up something shiny, something tasty, something for the mind, something for the soul, and something just because. Happy shopping to you and yours from your friends at the Valley Voice, celebrating their 43rd holidays in the same place, doing what we do best, celebrating the stories of those who live in and love this valley so much.
---
Advertisements
Search our Archives