Main Sections
Front Page
Sports
Valley Vitals
It's in the Stars
Starwise
Archives
Links
About The Voice
Contact Us
Champlain Valley Christian School Honors Local Veterans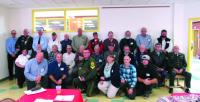 photo by Cheryl White

Photo by Cheryl White Honored at The CVCS on Nov 10, 2017 J. Francis Angier, Michael Betourney, Donald Bickford, Donald Bicknell, Ted Boelens, David Booska, Jason Booska, Roger Brouillette, Charles Bradford Sr., Justin Busby, John W. DeGraaf, Clifford Douglas, Elwyn Flynn, Michael Jackman, Alyka Kelly, Jeremy Kelly, Jason Kitteredge, Isaac Larocque, Ed McGuire, George Merkel, John Montgomery, Steve Nardell, Ron Nimblett, John Pettis, Marc Prime, Al Reynolds, Joann Reynolds, Dirk Smits, William Swett, Jerry Tabor, Ralph Torrey Jr., Alton Wilkinson, Roy Wilkinson, William Wisell.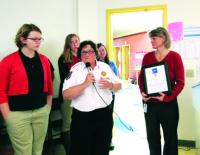 photo by provided

Joanne Reynolds a veteran who is a member of the Middlebury VFW presented an appreciation award to CVCS thanking them for their annual Veterans Day Ceremony.
Tuesday November 14, 2017
By Cookie Steponaitis
Stopping by the falls in Vergennes on any afternoon from September to mid-November will allow the viewer to encounter a unique sight. Moving down the Otter Creek toward the open waters of Lake Champlain are several boats with young people as the crew. Coxswains yelling out the stoke and oars moving in unison, these teams are the work of many hours of practice and the passion of one VUHS teacher, his crews and their families.
VUHS Rowing Team Instructor Dennis West gets a grin on his face when rowing season approaches. He simply lets the word out and students come in droves to be a part of the Commodore Rowing Tradition that has grown into one of the largest programs for both middle and high school. To be a rower is fun but also a serious commitment of time, energy, practice and teamwork at a level that many might now expect. Just as there are families locally associated with swimming, football, basketball, baseball, cheerleading, hockey and softball, the VUHS rowing tradition is entering its place in the school where advertising is not necessary and families spanning a decade proudly call themselves Alumni and support however they can.
"We have fifty-one rowers this year," grinned Coach West, "who are competing in the 31st annual Head of the Weir race this month. The Vergennes Rowers were able to place three teams in the top five in their division. The Weir is an exceptionally exciting race and a great spectator event in Boston, featuring over 150 of the region's finest rowers from all over New England and New York. Congratulations to all of the boats and to the top place finishes. Second place was the team of Nathan Devos, Zeke, Mitch, and Holden Clark, Mike Davis, Jackson Hameline, and Aidan Gardner. Third place was the team consisting of Bethany Delgadillo, Brianna VanderWey, Devon Coleman, Richmond Rathburn, Dylan Rapoport, Robert Verburg, and Ben Clark. Fifth place was the team of Marin Howell, Addie Brooks, Karyn Kenfield, AJ Chamberlain, Claire Austen, Dakota Loven, and Ashley De Smitt.
While the season is winding down with the last race in Boston on November 17th & 18th, it is in fact the premier race of the season. The Icebreaker brings together over 200 middle and high school students from all over New England. The event will draw a large crowd in Boston and the Vergennes group also brings along a huge contingent of fans. "I would like to give a big shout-out to all the parents that come and help tow the boats and provide lunches for the rowers," shared Coach West. "Moving the Commodore teams and all of the equipment is not an easy task." So while we are all busy thinking about our upcoming Thanksgiving meals and gatherings, one more blessing to add to our list is the passion, spirit and commitment of people like Dennis West and those of the families who annually help turn Addison County teens into competitive, accomplished and bonded teams of rowers that hold their own with the best in New England.
---
Advertisements
Search our Archives