Main Sections
Front Page
Sports
Valley Vitals
It's in the Stars
Starwise
Archives
Links
About The Voice
Contact Us
Provisionary Vermont Artisan Goods Expands Offerings To Local Community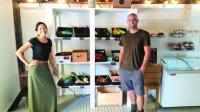 photo by Cookie Step

Jon and Mona Sullivan stand by some of the fresh produce available daily at their Vergennes store.
Tuesday August 22, 2017
By Cookie Steponaitis
When husband and wife Jon and Mona Sullivan came back to the Champlain Valley in 2012, the pair had a vision. Chef and founder of Provisionary, Mona had grown up in California and honed her skills of finding and using great local products in Santa Barbara and San Francisco markets. The Sullivan's moved to Jon's home base of Addison County and discovered a stellar collection of artisan products that needed a wider market. They opened Provisionary- Vermont Artisan Box and began creating curated gifts and meshing them with handcrafted items to get Vermont products in the hands of a global market. The venture created a network of Vermont artisans and opened the doorway for the second phase of the business now open on South Maple Street in Vergennes just off the Main Street.
"Buying local is becoming viable for more and more people in the area," explained Mona Sullivan. "We work with an incredible group of local farmers and vendors who are not only our friends, but also supporters of buying local and controlling the quality and freshness of goods available to people who live and work here." Provisionary- Vermont Artisan Box is located in the same space the couple had for packaging and sending the boxed web based portion of their business and is open Tuesday- Friday, 10:00-7:00 p.m. and Saturday 10:00-6:00 p.m. with 100% local items. With the bounty of a great farmer's market and the diversity that comes from the artisan network the Sullivan's have created, stopping by the store is a complete treat and the selection is a bit mind bending. On this particular Tuesday products from Pete's Greens, River Front Gardens, Little Acre Farm, Golden Well Farm, Lester Farms, Champlain Orchard, Wild Roots Farm, Fully Belly Farm, Adams Berry Farm, Good Companion Bakery, Honeymoon Kitchens and Otter Creek Heritage Farm provided fresh vegetables and meats and the first apples of the season as well. This reporter got hung up in the flavors of sausage available including Andouille, Maple, Chorizo, Tolucan and Blue Cheese and finally settled on Tolucan to try along with fresh greens, onions and tomatoes.
While Vermont's reputation for fresh and versatile products are known worldwide it is just in the past decade that more Vermonters are beginning to make the conscious decision to know where their food comes from and support buying local for milk, vegetables, meat, fruit and cheese. Take some time to stop by the store or check out provisionarybox.com or the Facebook site @provisionaryvt. Mona and Jon are committed to selling "100% local products" and invite you to stop by and see what is fresh and waiting for your table.
---
Advertisements
Search our Archives