http://www.vvoice.org/?module=displaystory&story_id=3866&format=html
Middlebury Rail Bridge Project Progressing With Main Street Now Open
By Mike Cameron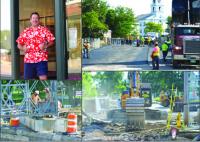 photo by Mike Cameron
Pictured above John Wallace the proprietor of Autumn Gold on Main Street in Middlebury, gave us a "thumbs up" as he reflects on construction work for the Middlebury Rail Bridge project in town just up the street from his jewelry store. John has good reasons to smile and so do his fellow downtown merchants because Main Street is now open.
A view of Main Street North and the Congregational Church captures crews preparing to pave. Meanwhile temporary bridge work continues over the rail bed on Merchants Row looking east as an excavator clears a path nearby. Jim Gish, a 20 year Middlebury resident and the town's liaison, with the State of Vermont Department of Transportation, and Kubricky Construction Corp. were upbeat and optimistic about the progress of the project and the community response. Last week he explained to the Voice, "The community is rallying to support the downtown merchants," Gish maintains a detailed blog on the project with pictures and current information at middleburybridges.org. The construction company is no stranger to Middlebury. They also built the Cross Street Bridge over Otter Creek in town.
The Main Street Bridge Is Now Open and the temporary bridge on Merchants Row will re-open soon. Downtown businesses remain open and encourage shoppers to visit their stores. Shopping locally continues to be a Middlebury tradition. Follow further developments on this important and historic project in the Valley Voice.

© Copyright The Valley Voice
< Back
Print