Main Sections
Front Page
Sports
Valley Vitals
It's in the Stars
Starwise
Archives
Links
About The Voice
Contact Us
Sharing Memories With Cary And Joyce Marshall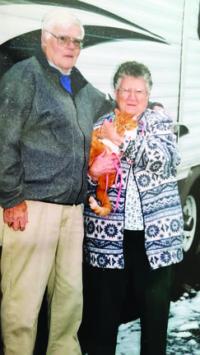 photo by provided

Cary & Joyce Marshall love each other, family, cats and camping to name just a few. This happy and positive couple welcome each day with a smile.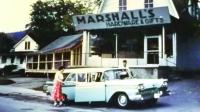 photo by provided

Just one of many chapters in the life of Cary & Joyce Marshall was running this hardware store in Middlebury for close to 35 years. Each day and each customer was treated with courtesy and great service.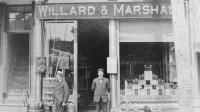 photo by provided

Cary's father Manley Marshall started out in business at this Whitehall, New York Store. He can be seen standing in front of the store proudly bearing his name.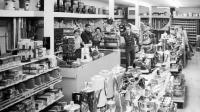 photo by provided

Inside Marshall's Hardware Store we find son Dale, Cary, Joyce and employee Dick Lathrop with an incredible inventory of everything a Middlebury family could need.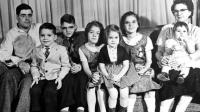 photo by provided

Family is the center of the Marshall's world. This family photo in the late 1950's shows all of the children, but not any of the multiple generations alive and thriving now.
Monday July 31, 2017
By Cookie Steponaitis
Cary and Joyce Marshall will both turn 94 years young this fall. "He is eight days older than me," shares Joyce with a grin. With 73 years of marriage under their belt and a family that includes seven children Beverlee, Dale, Peg, Karen, Cary Jr., Jenne, Judy, fifteen grandchildren, twenty-one great grandchildren and two great-great grandchildren, you would think there is nothing left to put on the to-do list and you would be wrong. The couple's social agenda this week alone includes Bingo, a great-grandchild's birthday party, an interview for the paper and going grocery shopping. Cary and Joyce Marshall are on the road and waking each morning to life with a smile, courtesy, caring and an anticipation of how good the day will be.
Cary was born in Whitehall, New York in the summer of 1923 and moved to Fair Haven, Vermont where his father worked in Norton's Hardware. They came to Middlebury in 1933 and his dad opened Calhoun's Hardware in what is now considered Merchant's Row. The store was opened 7:00 a.m.-6:00 p.m. but not on Sunday and offerings included everything from 'soup to nuts'. Growing up in the store and the business with his dad, Cary found the work interesting and fun and the people fascinating. When his father passed away suddenly, Cary and Joyce inherited both a business and presence in the Middlebury community that would continue for three generations of business. Cary's landlord wanted the young Marshall to buy the existing building but Cary had other plans. He bought the Gipson Building on Seymour Street that had previously been a lumberyard. Marshall's Hardware opened on the site and was the base of operations for the Marshall family for close to thirty years. Today that property is known as another Middlebury landmark Fire & Ice.
Joyce was born in Salisbury, Vermont in 1923 just eight days after her future husband, grew up on a very small farm and attended primary school in a one room school in West Salisbury, Vt. The next to the youngest of six siblings, Joyce remembers her early years as do many of her generation. Everyone was poor. "I got my first new dress my senior year in high school," explained Joyce. "Until then it was 'hand me downs' from cousins that were older and you were grateful you had older family." She attended Middlebury High School with Cary and the two cannot honestly remember who saw who first, but grinned and talked about their first date. "Actually, some friends of ours were going out and invited us to go on a date with them," shared Joyce." Cary chimed in, "We went to a movie." Pointing to his legs he added, "I can't dance now and I didn't dance then."
The pair graduated in 1941 but the events of World War Two drastically impacted the couple's life and plans. Cary got a letter from 'Uncle Sam' requesting his presence in the war and Marshall found himself first sent to Fort Devens and then to Camp Pole in Louisiana as part of the 8th Army Division. Marshall was recruited to go into drafting and surveying and was sent to Leigh University in Bethelem, Pennsylvania to attend college. On a brief leave home in 1943 before being sent overseas to the war, Cary approached Joyce about getting married. "Back then males under the age of 21 had to ask the father's permission to get married," explained Joyce. "He finally worked up the courage to ask his dad and then we went to Burlington for the blood work and stopped back at the minister's house on the way home. We had no family with us at all. We got married and spent the night in Rutland. Cary had to ship out the next day." When asked to share their wedding photo, Joyce simply smiled and concluded, "We never took one. Didn't have time."
Cary was shipped overseas and sent to England, France, Belgium and Holland as part of the push before the beginning of the Battle of the Bulge and was hit with shrapnel from a German howitzer in November 1944 that pierced his right leg, passed out the other side and went through the left leg before exiting his body. Three hospitals and one year later, Cary was stateside at Staten Island. He was finally allowed to go home just before Christmas 1945 and he concentrated on what he loved most, family and work to give him the incentive to rebound from his injuries. While the nation awarded him a Purple Heart, Marshall sees the war as a chapter in his life but not the one that defines him.
"I simply loved opening up the door of the hardware store every day and seeing the customers," shared Cary. "There were only about three that were quite difficult. The rest were there to see us personally and know they were getting great service. All in all, about three generations came in for service before we sold the business." Joyce gave a chuckle and recollected, "Do you remember that contractor man? No matter what day he came in, he would walk up to the counter and start listing off what he wanted and he wanted to be waited on right that minute. He never cared how many other customers were there first." With a sign that read Marshall's Hardware and Gifts, this reporter asked Joyce what the gifts were. "Whatever I found interesting," explained Joyce. They were all local people and local products.
Joyce was busy outside the house and in the community and worked 18 years for the Middlebury Superintendent of Schools and volunteered 18 years at the Vermont Health Service helping parents with young children. "I just stopped that last year," explained Joyce. "I decided to focus on home more and simply enjoy it." Whether it is her collection of beloved Owl plates, immense Beenie Baby Collection, silver spoons, Cary's model cars or the family photos which dot the house, Cary and Joyce Marshall are a unit and face all that life has to bring as a pair.
Cary sold the family Marshall's Hardware store in the late 1980's when he decided one day he had been inside too long. He took a course in locks, safes and alarm systems and began career number three with Joyce riding shotgun on all his calls. No matter the time of night or the location of the call, Joyce and Cary would suit up together and make the drive. One Christmas Eve the couple had a call from a desperate man in New Hampshire. He had locked his keys in the car and had tried all available services in New Hampshire to no avail. His children's gifts were locked in the trunk and Santa would not be delivering unless he got a key. Without a thought to the time or the date, Cary made a key for the man and Christmas did happen in that New Hampshire house on time.
"You really need to retire and see just how busy it will get!" expressed Cary. "Did you see the trees in our yard? Those are Catalpa trees and if you had been here yesterday you would have seen beautiful white blossoms. My father planted those. I can't tell you how happy I am to wake up each morning and see what is coming in life. I intend on living to 106." Joyce shows a photo of her 104-year-old sibling who lives in Connecticut and looks about 85 and shares, "I simply love life. There is so much to be happy about. I love my kids, I love people and I take great joy in life."
While both worked well into their late 80's, the pair found time to travel and just recently sold their camper which had taken them on many a road trip. 'Vermont is Life' is the saying on Cary's t-shirt and it seems an appropriate one for a couple married longer than most people have been alive and with a social schedule that would keep many decades younger on the go. When asked for some wisdom to pass on to the next generation Joyce summed it up with Cary nodding in agreement. "Work hard. Be friendly and always look on the bright side of life," words to live by provided from a couple who have it down pat and have no plans to stop anytime soon. The Valley Voice celebrates 73 years of marriage and over 50 years of commitment to the Middlebury business and school community from Cary and Joyce Marshall.
---
Advertisements
Search our Archives