Main Sections
Front Page
Sports
Valley Vitals
It's in the Stars
Starwise
Archives
Links
About The Voice
Contact Us
Governor Phil Scott Spends The Morning With Some Sharks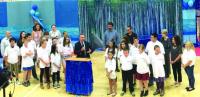 photo by provided
Monday July 31, 2017
By Cookie Steponaitis
Olympian Michael Phelps is not the only public figure to go swimming with the sharks this week. Governor Phil Scott recently jumped off into an educational Shark Tank at Middlebury Union Middle School. While the governor did not get wet in this adventure, he was none the less impressed with the efforts, research, and entrepreneurial talents of the MUMS students. "I was 16 when I started my first business, and I commend the efforts of these adolescents to learn how to become entrepreneurs at such a young age."
Standing in front of the MUMS Sharks, which included John Rouse of Rouse's Tire, Laura Flint of UPS and Subway, Amey Ryan of IPJ Real Estate, and Paris Rinder- Goddard of Fire and Ice Restaurant, each mock student business presented their research, their product, and their pitch. The middle schoolers were mentored by local business people and had a crash course in how to begin an entrepreneurial adventure. Applauded not only by Governor Scott, but by business leaders in several communities, the Shark Tank program was created by MUMS teacher Martha Santa Maria. With committed and expert educators like Linda Schell, Amy Pyfrom, and Wendy Brouillard, all who work in partnership with Santa Maria, the MUMS Shark Tank program continues to evolve and grow each summer. The presentations are the culmination of a month of work by the school's students. One Shark Tank participant shared this about her experience. "We had a chance to experience the real world."
With the ever-changing agricultural landscape in Vermont, courses like this are a blessing because they offer authentic learning and local mentorship to youths with a never-ending stream of ideas and the drive to take their training and invent their own future. The Valley Voice salutes the ingenuity of the students and their teachers as yet another generation comes of age in a valley where work, passion, and creativity make life unique and very special.

---
Advertisements
Search our Archives