Main Sections
Front Page
Sports
Valley Vitals
It's in the Stars
Starwise
Archives
Links
About The Voice
Contact Us
Summer Produce And Summer Music At Local Farmer's Market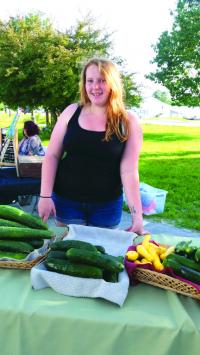 photo by provided

Rebecca was on hand from Lalumiere's Farm & Gardens to offer tempting fresh produce from the field to your table.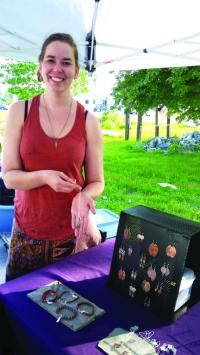 photo by provided

Artist and crafts person Elin Joy brings her Metal Nomad made in Vermont jewelry to share with locals and visitors alike.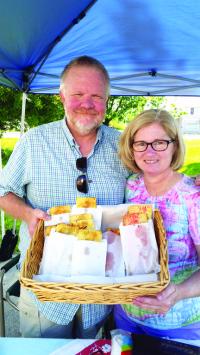 photo by provided

Vergennes Farmers Market Managers Chris & Sandy Reck not only organize the Vergennes market, but sell their own tasty Route 7 Pie Company summer treats.
Tuesday July 11, 2017
By Cookie Steponaitis
It is a Thursday night in Addison County and in addition to summer winds blowing; people are out and about soaking up the sun's rays, ambiance and experience. Looking to capture all of the best of Vermont in one place? Try a local farmer's market where fresh means picked today, the music is played live and crafts and food are as diverse and unique as the people who make them. In short, the best of the summer can be found in the local farmer's marketplaces of Addison County.
The Vergennes Farmer's Market managed by Chris and Sandy Reck is set up on the grounds of the Kennedy Brothers Complex during summer and inside the building in winter. Nicknamed Farmers Market Plus, the Vergennes scene includes simply delightful summer treats like those from The Route 7 Pie Company, local vegetable growers for over forty years Lalumiere's Farm Stand and unique craftspeople and artists like Elin Joy owner of the Metal Nomad. "Metal is my Muse," explained Joy. "I love working with sterling, copper, bronze, stainless steel and to interact with the people. I put a great deal of love and work into each piece and I like meeting the people who are going to wear it or learning where it will go as a gift."
Rebecca of Lalumiere's Farm Stand admitted that while Mother Nature had gardens off to a slow start this season everything is blooming and growing now by leaps and bounds. Lalumiere's is a part of the Vergennes Farmer's Market and can also be found in farmer's markets each week in Monkton, the University of Vermont, Richmond, Shelburne, Stowe, Winooski and the Old North End of Burlington. Produce is picked daily and Rebecca was enjoying not only the sales of the evening but talking with each customer whether a new one or an established buyer who values eating local and fresh.
While Vermonters all wish summer could stay a bit longer, everyone knows the produce is the freshest now, the days a bit longer and smiles just a bit bigger. People seem happier when tuned into the season, wonders of the earth and talents of the hands of local Vermonters. So, no matter the night of the week there is a local farmer's market near you. If you want more information about the Vergennes Market, please contact Chris and Sandy Reck at (802)-233-9180 or vergennesfm@gmail.com. Elin Joy of Metal Nomad can be reached on Facebook at Metal Nomad. Lalumiere's Farm Stand can be reached on Sand Road in Ferrisburgh and have green houses and acres full of plants and vegetables. Celebrate summer every week. Shop locally and meet the neighbors, farmers, artists, musicians and chefs that make Made in Vermont such a joy to taste and sample.
---
Advertisements
Search our Archives