Main Sections
Front Page
Sports
Valley Vitals
It's in the Stars
Starwise
Archives
Links
About The Voice
Contact Us
Summer Sharks Sighted At Middlebury Union Middle School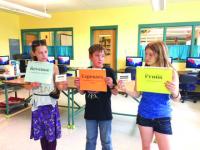 photo by provided

MUMS summer students learn key vocabulary for their Shark Tank Experience!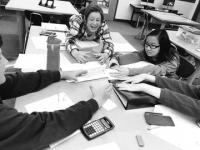 photo by provided

Students from Shark Tank work together on their business plans!
Tuesday July 11, 2017
By Cookie Steponaitis
For the past several summers an incredibly powerful summer learning opportunity has intertwined the lives of Middlebury teens, local business owners and celebrities and even bears a little resemblance to the popular television show SHARK TANK. Swimming in the waters of this summer program are students who create business partnerships and companies, bake food products, develop business and marketing plans and present their creations to an audience of entrepreneurs, business owners, parents and families alike.
In addition to presentations and mentorships from many local business owners, Middlebury's own 'Shark Panel' will include John Rouse of Rouse's Tire, Laura Flint of UPS and Subway, Amey Ryan of IPJ Real Estate and Paris Rinder-Goddard of Fire and Ice Restaurant. "It is always incredible to see the support and the partnerships that occur for our students," explained Shark Tank Program creator and MUMS teacher Martha Santa Maria. "We would like to invite people to come to the farmer's market to see our product and engage our students in the process they have gone through. Please feel free to invite others to our show on Friday, July 28th where our MUMS students receive their final feedback."
Anyone interested in following the progress of the Summer Shark Experience can check out the dates below or come to the Farmer's Market or final gathering on July 28th. It is a powerful experience to see generations combine talents to offer to the business owners of tomorrow a leg up on how to dream, plan, work and succeed.
Friday, July 7th Two representatives from the Vermont Federal Credit Union (VFCU) collaborate with students as they are introduced to the formal business plan.
Monday, July 10th Students participate in a SKYPE conversation with a professional marketer.
Wednesday, July 12th and July 19th Students collect data at the Middlebury Farmer's Market which will influence their plans.
Friday, July 14th One or two representatives from the VFCU will mentor our business partnership teams by providing them specific feedback on their individual plans.
Tuesday, July 25th Each business partnership will rotate through a feedback session with a graphic designer at the UPS Store to design their packaging labels.

---
Advertisements
Search our Archives