Main Sections
Front Page
Sports
Valley Vitals
It's in the Stars
Starwise
Archives
Links
About The Voice
Contact Us
Former Addison County Softball Athletes Excel On The College Softball Diamond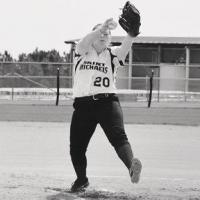 photo by provided

Dani pitching.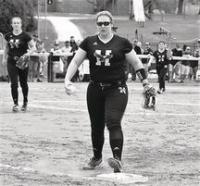 photo by provided

Tamara on the mound for Husson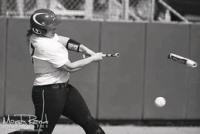 photo by Monty Rand

Tamara's hard hitting broke a steel bat this season.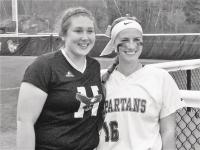 photo by provided

Cousins Tamara & Taylor meet on the field as college players.




photo by provided

Taylor Paquette.
Tuesday June 6, 2017
By Cookie Steponaitis
Tamara Aunchman, Taylor Paquette and Danielle Brown grew up together in Addison County playing softball and other sports from a young age and sharing a dream of playing college softball and achieving that goal. They played together on the Commodore Varsity Softball team in high school developing their own style and skills and worked as a team to push each other to the college level. "My plan was always to play softball in college," shared Saint Michael's College right handed pitcher and rising senior Danielle Brown. "I learned a lot of my spin pitches in high school but in college it has really been about getting those perfected. I've always thrown a lot of rise balls throughout high school and college, but in college I have developed a low rise for a strike and a high rise for a strike out pitch." These sentiments were also echoed by right handed pitcher #16 Taylor Paquette who plays for Castleton University. "Since playing at VUHS I have used my leadership skills I learned on the mound at VUHS and carried them into pitching on the mound at Castleton," remarked Paquette. "I hold myself to high standards on the mound and I do just the same when it comes to my teammates because with high standards comes high levels of success. We were NAC champions in 2016 and runner-ups for the championship in 2017. The overall team record was 20-10-1, my era was 2.46, nationally ranked eighth in the country for the least number of walks allowed with only eight walks led allowed, forty-nine strikeouts, my pitching record was 11-4-1 with pitching a total of ninety four innings for the season." Rounding out the trio of former Commodore teammates and playing first and third base for Husson College in Bangor, Maine, Tamara Aunchman remembers her years in high school as a turning point in setting her dreams on college teams. "When I played in high school it was always a dream and goal of mine to play in college," explain Aunchman. "It wasn't until sophomore year that I knew it would be possible. My bat really came alive and my defense was great. I think what I carry the most from high school is my work ethic. You get what you put in and I put in a lot of extra work and it's finally paying off."
Playing for Saint Michael's has brought Danielle Brown full circle. Her coach Robyn Newton was also her physical education teacher at Vergennes Elementary School. Brown identified that while awards have come to her for her hard work including being named NE 10 weekly honor roll for the week ending April 20, 2017; team MVP her freshman season and selected team captain for her senior year, she has had to continually push herself to perform at new levels each game. "My freshman year I really struggled adjusting to the quality of Division II softball," explained St. Michael's pitcher Brown. "It was very different than anything I had ever faced. I have to work to get every out. My freshman year I wasn't a smart pitcher. I left too many pitches over the plate and I wasn't getting batters to chase my pitches. Over the past two years I really feel like I have developed that part of my game. This year my walks went down significantly. It's not because my pitches are better or I have more control; I just got smarter on getting ahead of the batters. Competitive sports have really taught me about work ethic and heart. Our team improved significantly this season." With pitching statistics including 24 appearances, 19 starts, 6 wins, 12 losses, 1 save, 115.2 innings pitched, 3.27 earned run average and 105 strikeouts and 26 walks, Brown is excited to begin her senior year and give her all to a sport that has been a part of her life so far.
Aunchman has played softball since she was three years old and grew up in Addison County practicing five to six days a week and two-three days in the winter. Playing at least seven tournaments a year, Aunchman admits she grew up not doing things the, "normal kids experience." Aunchman plans to coach after graduating from Husson College and remarked, "I think my hitting has really improved. Although I was a good hitter in high school I feel as though I have become more consistent and more confident over the past year. The biggest thing I learned playing and being involved in a competitive sport would be how to be a team player or being a great teammate. This doesn't just help you on the field but in the classroom and the workplace. Our team motto is "don't be a jerk" and I believe more people should follow this motto. Many people play for themselves but if everyone on the team is playing for the team and for each other you will succeed. And we did this year. It's great to do well personally but one person can't win a game and to me that's very important to understand." Aunchman's personal stats include RAC Rookie/Player of the week two times, ECAC Player of the week two times, first team NAC and bats a .346 with 27 RBI's and a slugging percentage of .608. "I broke the Husson records for most home runs in a single season as a freshman, finishing the season with seven and that also is the second most home runs in Husson history for a single season," grinned Aunchman.
Paquette looks back at her high school years with fondness and explained that her goals of college softball were set when she was young. "I always had the expectation and goal to work hard enough to be a college softball player one day," expressed Paquette. "Since starting on varsity freshmen year my hopes were to play for a team like the Spartans. Since playing at VUHS I have used my leadership skills I learned on the mound pitching at Castleton. Surprisingly when I was younger the main reason I wanted to pitch was because our Little League games moved so slowly that I wanted to help speed them up." Named Rookie of the week 3/16/15 and 3/30/15, Paquette has also been named pitcher of the week and All- Conference 2nd Team the 2017 season. When asked to reflect how the sport has shaped her life Paquette was quick to center on how skills learned in sports carry over far beyond the diamond. "The most rewarding skills I've learned on and off the field include time management, the power of words and the strength of team chemistry," explained the Spartan pitcher. "Softball has brought me a lot of things but the most important are the connections I've made with the school, my coaches and my teammates."
Recent games have brought the three back together wearing opposing uniforms and working with their collegiate teams. As with all lessons learned at an early age and as active athletes Paquette, Brown and Aunchman can give it their all on the field and still be the best of friends off. "I wouldn't have been able to do any of this without the constant support of my family, friends and teammates especially my dad who has only missed less than a handful of my games throughout Little League and into college," concluded Saint Michael's pitcher Brown. Tamara Aunchman, Taylor Paquette and Danielle Brown are Addison County athletes who are proudly carrying on the game they love so much, with the lessons learned while growing up and pushing themselves and their teammates to reach for new goals.
---
Advertisements
Search our Archives