Main Sections
Front Page
Sports
Valley Vitals
It's in the Stars
Starwise
Archives
Links
About The Voice
Contact Us
Porter Medical Center And UVM Health Network Officially Launch Affiliation And Brand




photo by Mike Cameron

Pictured: Dr. John Brumsted, Dr Fred Kniffin, Dr. Stephen Koller, Maureen Mc Laughlin and the new University of Vermont Health Network Porter Medical Center sign.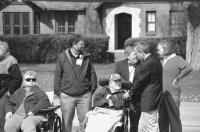 photo by Mike Cameron

Dr. Fred Kniffin (foreground) welcomes residents, caregivers, and family members from Porter Health and Rehabilitation Center to the Affiliation and Brand Launch Day Celebration on Thursday May 11, 2017. The 92 year old Porter Hospital and Health Network is now part of The University of Vermont Health Network-Porter Medical Center.
Tuesday May 16, 2017
By Mike Cameron
After 92 years of successfully providing medical services to area residents on its own, officials at Porter Medical Center shared their thoughts and expectations for the future with officials of The University of Vermont Health Network during a special Affiliation and Brand Launch Day Celebration held on May 11th 2017 on the Porter Campus. A large group of staff and community members attended the mid-morning event.
Dr. Fred Kniffin, President and CEO, UVM Health Network-Porter Medical Center used the metaphor of the beginnings of a successful marriage to describe the relationship that has developed between Porter and The UVM Health Network. The affiliation became effective on April 1st 2017 following a vote at the Porter Medical Center Annual Meeting in March.
Thursday's community launch and the unveiling of the new lighted monument signs that will stand at the entrance to the medical center campus made it clear to everyone in attendance that changes at what was once Porter Hospital and The Helen Porter Health and Rehabilitation Center are now in progress. Dr. Kniffin pictured above second from the left, expressed optimism that the "marriage", between Porter and The University of Vermont Health Network will be a fulfilling relationship for both organizations and their patients. "From this day forward and I say this with great pride, we are The UVM Health Network Porter Medical Center. We are going to take everything that is great about Porter; the quality of care, the compassion with which it is delivered and the convenience of having it here locally, and we are going to add to that everything that is great at The University of Vermont Medical Center, their scale, their sophistication and their academic mission. The sum of the parts, in fact will be greater than the parts themselves," Dr. Kniffin explained to those assembled.
Dr. John Brumsted, President & CEO, UVM Health Network and CEO-UVM Medical Center pictured top left in our headline photo began his remarks with a gentle ribbing of his college Dr. Kniffin about Kniffin's "marriage" metaphor. "I want everyone to know that it's an organizational wedding metaphor. I am very happily married to Jessica and between us we have seven kids. This is really an amazing gathering and I've had the opportunity to do this several times before across Northern New York and Vermont. This is very special. The professional community that I grew up in north of here, the intersections are so many and so deep and so today it's more like being back with long lost brothers and sisters. Back together, finally, to do great things together. By working together we improve peoples lives and what I've heard from all of the speakers so far is what I would personally define together at all levels: management, medical staff, other professionals, trustees and most importantly at a real community level." Dr. Brumsted also shared with his audience a word picture of a view of Lake Champlain and the Adirondacks he experienced with colleges on a flight to St. Lawrence County New York. Looking down from cruising altitude he explained to his fellow passengers,"as far as you can see, we are responsible for peoples health care." It is estimated that UVM Health Network and its affiliates are responsible for upwards of one million patients. Dr. Brumsted thanked the Addison County Community and Porter Hospital in particular for their trust and confidence. "It's going to be a great ride together," he said.
Dr. Stephen Koller, is President of the Medical Staff, UVM Health Network-Porter Medical Center, pictured third from the left on the front page. Dr. Koller quoted from the book Sapiens by Yuval Noah Harari. As it states in the books subtitle, Sapiens is a brief history of humankind. How we as humans have been able to combine through cooperation, experiences and beliefs, methods and actions for the common good. Dr. Koller went on to suggest that this kind of cooperation was instrumental in forging the kind of collaborative that was necessary to achieve the objectives required for a successful affiliation process to evolve. "I think we all can look forward in the coming months and years to contribute to our unfolding story. So let us roll up our sleeves, sharpen our quills and co-author a story of cooperation and collaboration that not just aspires but inspires," Dr. Koeller shared.
Maureen McLaughlin, Chairperson Board of Directors, UVM Health Network-Porter Medical Center was introduced by Dr. Kniffin as a person who has worked tirelessly on the affiliation from the outset. She reflected on the cooperation experienced by everyone involved in the process. "We could not have done this,without the hard work and engagement of so many." She went on to mention some of the people involved in the project that had not as yet been recognized. "Employees who participated in various town halls, providers who worked on committees and attended retreats, senior leadership who did yeoman work behind the scenes, the board that reviewed reams of material over the past year, we had consultants who helped us through an unbelievable amount of material, Dr. Kniffin who is a champion, ambassador and steward, the leaders at The UVM Health-Network...responsive, patient with our process, and sensitive to how important Porter is to this community. And finally this community, you attended forums, you asked very thoughtful questions and on March 15th you affirmed this important step. My heart-felt thanks to all of you, it's really your accomplishment", She said.
Former Porter board president Steve Terry was also recognized for his tireless advocacy on behalf of the Porter Hospital Community. Mr. Terry accepted the task to head the Legacy Committee responsible for bringing the eventual Affiliation and Brand Launch to fruition. A Porter Board member for 18-years, he is referred to as "The Wise Man," by those who have had the opportunity to work with him. In a surprise recognition of Mr. Terry's work and that of the Legacy Committee, a conference room at the hospital will now be named in recognition of their outstanding work.
Over the years Porter Hospital and the Helen Porter Health and Rehabilitation Center have been an organization of accomplishment. In 2016 for example Porter was one of three Vermont Hospitals to earn a CMS Four Star Rating for Quality. The Centers for Medicare and Medicaid Services (CMS), base the star ratings on 64 individual measures that are published on its Hospital Care website.
The goal now is to perpetuate this legacy into the future for the next 92-years. The UVM Health Network-Porter Medical Center Affiliation and Brand Launch Day Celebration of May 11, 2017 will be remembered as an historic moment for the continuing evolution of quality and affordable health care in our region and across the state.

---
Advertisements
Search our Archives