Philadelphia Strong A Celebration Of The Commodore Music Program
By Cookie Steponaitis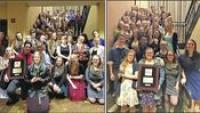 photo by provided

Left: Commodore Band Takes Gold at Music Contest. Right: VUHS Chorus Earns a Silver rating at the Philadelphia Music Festival.
Folks out talking a walk or driving through the Little City got quite a shock on Sunday night. Coming through town with sirens and lights blazing were the Police Department and Fire Department followed by busses loaded with very exuberant students from the Vergennes Symphonic Band and Vergennes Chorus. Long noted as being a stellar music program, the Commodore musicians were on their way home from the World Strides OnStage Music Festival in Philadelphia that had over 1200 musicians, bands and students from all over the country and schools from the Caribbean with VUHS being one of the smaller sized schools present. What caused the hubbub and escort was the fact that the Symphonic Band took First Place Gold in Division 1A and the Chorus took Silver in the same division as well as the Spirit Award and praise from judges, coaches and other musicians alike. The atmosphere on the bus, in the streets and waiting at the school was jubilant to say the least.
Susan O'Daniel has been at the helm of the Commodore music program for the past thirty-eight years and is no stranger to strong performances by her students and the walls of the band room document their successes at festivals along the eastern seaboard and New England states. Whether it is a home concert, marching band, Pep Band, music for the school musicals or competitions including the Green Mountain Music Festival, All-State Music Festival, New England's or beyond, Commodore musicians have continued to enjoy music and success approaching four decades. VUHS Chorus teacher Ms. Liana Fitt joined the staff this year and has already become a valuable asset and loved by the students. As the procession made its way down Main Street and into the parking lot where a sea of parents were waiting with signs of their own, it was clear that music is alive, flourishing and a part of the culture in Addison County. Social Media was full of messages from past graduates from around the world celebrating with the musicians and echoing from their own pasts a time and place where music became more than a class. It became a part of their hearts and forever a part of their lives. The Valley Voice salutes all of the musicians, parents and with a special shout out to Mrs. Susan O'Daniel for leading the charge for musical excellence for soon to be three generations of young people.