Main Sections
Front Page
Sports
Valley Vitals
It's in the Stars
Starwise
Archives
Links
About The Voice
Contact Us
Taking Your Sweet Time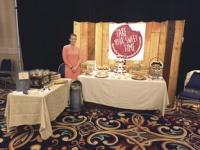 photo by provided
Tuesday December 20, 2016
Jessica Thibeault's passion for baking started at a very young age and in her Great-Grandmother's kitchen. "Her cookie jar was always full and she was very willing to bake with me," shared the Addison mother of two. "She knew all of her recipes off the top of her head and she taught me sometimes the smallest changes can make all the difference." What started as cooking lessons with her family and grew into a hobby took on a life of its own in 2013 when Jessica opened her business Take Your Sweet Time. Offering local deliveries of pies, desserts, cookies and cookie favors for weddings, Jessica continued to grow and diversify each year.
"All of my treats are home made by hand in small batches and I want to always keep it like that," stated Jessica. "I think it gives my treats character and reminds people of home. I would love for TYST to continue and grow a little each year. This year I have branched out to wedding desserts as well as providing cookies for Goodies Snack Bar in Addison for their ice cream cookie sandwiches. It's been so much fun that I can't wait to see what 2017 will bring for TYST."
Jessica is not the only one in the family who has a knack for artistic and delicious baking and loves to swap recipes not only with clients but family as well. She never gets tired of meeting new clients and seeing that theme and colors they are looking to create for their event. Whether it is a craft fair, people at Goodie's Snack Bar or catering weddings or special events, Jessica loves the interaction, the creation of the desserts and the satisfaction of seeing how much people enjoy her baking creations.
When asked to share her personal favorite of her recipes, Jessica paused for a moment and finally declared she could not choose. "Picking a favorite is nearly impossible because they change with the season. I love buckeyes and gingerbread softies for the holidays, raspberry bars and peanut butter pie in the summertime and of course chocolate chip cookies are good anytime." While people adore her products, Jessica praises her family as her ultimate support and official taste testers. "I am so lucky to have the support and help from my husband. He puts in a lot of late nights helping me package goodies for craft shows and has helped me ferry treats all over the state. He and my boys are my most honest taste testers."
If you are looking for the perfect dessert to cap off a family gathering or to celebrate a special event, reach out to Jessica at Take Your Sweet Time on Etsy or email Jessica at Jessthibeault@gmail.com. And when you enjoy your delectable desserts that Jessica makes, the Valley Voice staff suggests you savor every bite and by all means, just take your sweet time!
---
Advertisements
Search our Archives