Main Sections
Front Page
Sports
Valley Vitals
It's in the Stars
Starwise
Archives
Links
About The Voice
Contact Us
Shopping At Linda's Apparel & Gifts Combines Quality Fun & Service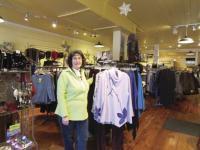 photo by Cheryl White

Linda's Apparel & Gifts is one of the main stays in Vergennes.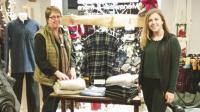 photo by provided

Sarah Ayers and Alyssa Saunders are ready to assist with your purchases.
Tuesday December 20, 2016
By Cookie Steponaitis
When you walk into Linda's Apparel & Gifts on Main Street in Vergennes, you can be sure of three things. First, you will find stylish and fun clothing that will both warm the heart and meet the needs of anyone on your shopping list. Secondly, you will experienced personal service and work with a group of people who are willing to let you browse or start with your list and help you find each individual the perfect gift. Third, you will know you are choosing from companies that include long time favorites Woolrich and Carhartt, and also selecting from a wonderful collection of new companies including LuLu-B, and Nautica. Whether you want to stuff your loved one stockings with Darn Tough socks or just want a beautiful accessory or piece of jewelry, Alyssa Saunders, Sarah Ayers, Nicole Newcomb, Anna Huppuch, Cheryl Shea, April Ambrose and Linda herself are there to assist. So, stop in 9:30-5:30 Monday-Saturday and if you are the last-minute shopper, Linda's Apparel & Gifts has extended hours the week of Christmas with shopping from 9:30-7:00. With shipping available for your purchase, the staff at Linda's Apparel & Gifts will even gift wrap your selections for you! Come and see why generations have shopped at 175 Main Street in Vergennes.
---
Advertisements
Search our Archives