http://www.vvoice.org/?module=displaystory&story_id=3729&format=html&edition_id=577
Framing Projects Both Large And Small At Middlebury Frameshop & Gallery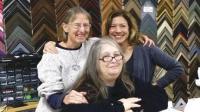 photo by provided

Stop in and see what special gift you can create with your photos and the skilled help of Heidi Holliger, Pat Stevenson and Eileen Gombosi at Middlebury Frameshop & Gallery.
The Middlebury Frameshop & Gallery is located at 656 Exchange Street and Pat Stevenson and Heidi Holliger are waiting to frame people's special images that are cherished and kept close to their hearts. Whether tackling an immense project or giving tender loving care to a single photo that needs a place of honor in your home, Stevenson and Holliger have over twenty years of experience bringing images to life with the perfect and professional framing process.
The Middlebury Frameshop & Gallery is open Tuesday- Saturday 10 a.m.-5 p.m. and offers personalized service on each framing project and a selection of framed pieces of art that will tickle your fancy and fill in the spot on your holiday list for the person who is hard to buy for. Reach out to them at (802)388-6000 or stop by their Exchange Street address. Look for the purple door and see why people from all over the Champlain Valley and beyond trust their most treasured images to Pat Stevenson and Heidi Holliger. Get your orders in quickly, because they're filling up for the holidays.

© Copyright The Valley Voice
< Back
Print