Main Sections
Front Page
Sports
Valley Vitals
It's in the Stars
Starwise
Archives
Links
About The Voice
Contact Us
Sharing Stories Of A Musician's Life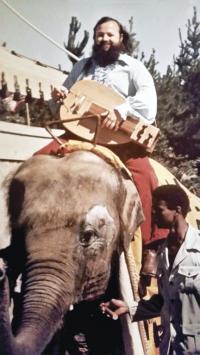 photo by provided

Riding on an elephant and playing a Hurdy Gurdy is only one of the amazing jobs held by Lyn Elder.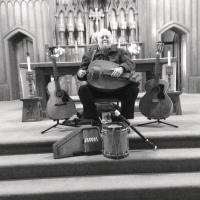 photo by provided

Living in Vermont since 2003, Lyn Elder performs for groups and gatherings of all sizes and continues his love of music.
Tuesday December 6, 2016
When I asked Lyn Elder what music means to him, he did not even need to think before replying, "It's my life," and indeed it is. His business card reads, "Folk & Historical Music For All Occasions". Talking with this singer, instrumentalist, and instrument maker is a foray into different eras and genres and a career that spans both American coasts and centuries of musical history. Simply put, Lyn Elder cannot conceive of his life without music.
Lyn was born in Bastrop, Louisiana, while his father was serving overseas as an Army chaplain during World War II. After the War's end, James Elder became a Southern Baptist pastor in New Orleans, later moving the family to the San Francisco Bay Area and taking a position as a professor at the Baptist seminary there. Both Lyn and his dad loved singing in church. "I've always sung, whether in church, school choirs, or just alone--it's one of my earliest memories," recollected Elder. Then, in third grade, the district music teacher came and offered the students the opportunity to choose an instrument to study. "He demonstrated the clarinet, trumpet, trombone and flute, and told us to pick one. I chose the flute and began to learn and practice."
When Lyn started college he intended to study mathematics and astronomy but soon decided to return to California and become a folk singer. For the next forty-five years he performed both folk and historical music around northern California area and most of the western states.
As a solo singer and a member of various folk groups, Lyn played at coffee houses, night clubs, and colleges, sometimes on the same bill as other, more well-known performers, including The Limelighters, The Smothers Brothers,Ricky Nelson, Barbara Streisand and Bing Crosby. One summer he was offered a job at Marine World, playing his hurdy-gurdy while leading the opening parade each day, riding on the back of an elephant. "It was certainly not a common job for a musician," chuckled Lyn.
In 1965 Lyn was drafted into the Army and spent his next two years as a musician and singer in the Third Army Soldier Show, stationed in Atlanta. The Soldier show played all over the southeastern U.S, at both army and Navy bases, during the early years of the Vietnam War. After his discharge, Elder became an apprentice under Master Violinmaker Georg Kelischek, He learned the craft of instrument building and was able to draw up plans for some of the instruments he later built for others to play. Returning to Mill Valley in early 1969, he opened his own workshop and began a career as an instrument maker specializing in the Medieval, Renaissance and Baroque periods. His principal products were lutes, viols, hurdy-gurdies and other assorted early string instuments. During his first few years as a builder he won two NEA grants to study old instruments in European museums, in which he took thousands of photos and recorded hundred of pages of measurements. "There was a good market for these instruments in those days," says Elder, "About half my pieces went to universities and the rest to professional performers." Lyn's "Magic Mountain Workshop" became well-known to early music enthusiasts throughout America and overseas. He estimates that during that time he build over 300 lutes, 60 viols and 50 hurdy-gurdies.
On returning to th Bay Area and starting his new workshop, Lyn changed over from folk to historical music and started a Renaissance musical group called The Festival Consort, which performed and toured for the next 45 years. From 1971 until 2000 he was associated with the Northern California Renassance Faire, as both the director of their historical marching band and as a performer in their stage shows. "We marched up and down that two-mile long Faire twice every day--it was good exercise but quite a workout."
In 2003 he moved to Bristol, Vermont and set up a new workshop in his brother's barn. He retired from instrument building in 2011, moved to Vegennes and and decided to take up folk music again, as a retirement job. "I was pleased to find that Vermont is a virtual hotbed of folk music and a good place to restart my career as a guitarist and autoharp player. I spend hours a day practicing and researching both the songs I used to know and many new ones I've found on the internet." He has included such early instruments as the hurdy-gurdy, recorders and pipe & tabor in his performances, which tend to be a mixture of popular folk music from the 50s, 60s and 70s, and many historical English ballads and pagan ritual songs.
Lyn's first Vermont audiences were found at retirement communities such as Otter Creek, Wake Robin and Elderly Services. "Many of these people remember the music of the Folk Revolution and are familiar with a lot of my songs,". He is now hoping to expand into other venues and start doing commercial jobs, including weddings, church concerts, shopping malls etc.
What makes Lyn Elder such a unique member of the Vermont musical community are not only the span of his career and his large collection of unusual instruments but also his eclectic approach to the music of earlier times. He claims to have a repertoire of almost 250 songs and can create from them programs
of many different themes and periods.
One of Lyn's most prized possessions is a photograph, taken in 1942, showing his father about to jump out of a C-47 airplane. He says he sometimes feels that he took a similar leap in 1962, when he decided to jump out of what could have been a comfortable career into the unknown but exciting possibility of a life in music. For him the need for music every day will never go away or get old. As he shared at the beginning of this interview, "Music is my life.".
Anyone interested in hearing Lyn Elder perform or hiring him to play for an occasion can contact him at lynelder08@gmail.com or call him at 870-7229.
---
Advertisements
Search our Archives